The Vista Shop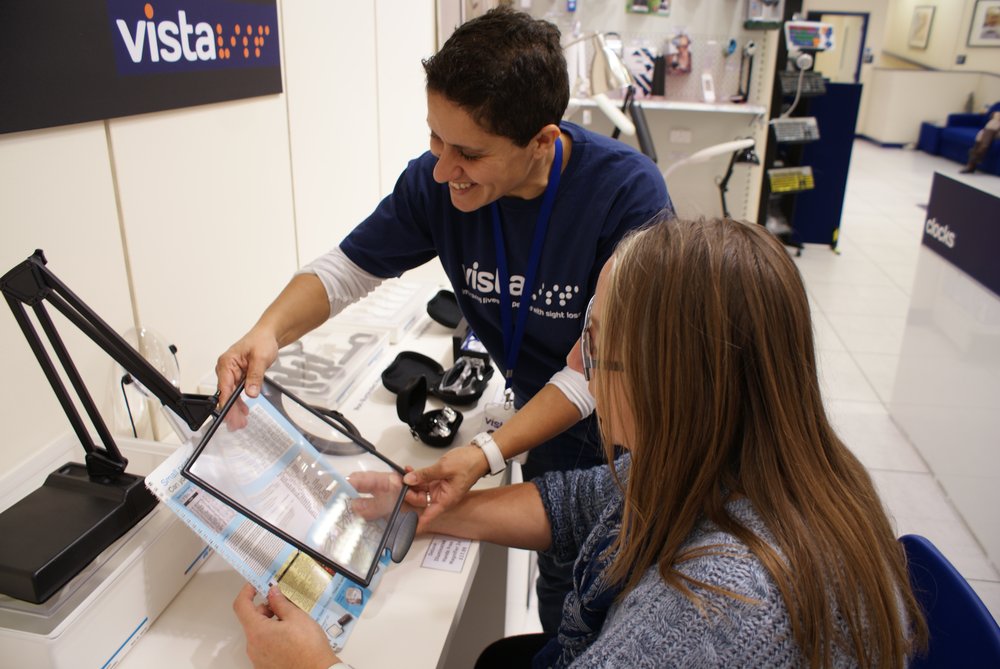 We know that finding the right daily living aids can make a big difference.
Our relocated Vista Shop is home to a wide variety of daily living and mobility equipment - from liquid level indicators and talking scales, to large button phones, watches and medication aids, our friendly team will take the time to find the right product for you.
You can receive specialist help on Tuesdays, Thursdays and Fridays, 10am - 3:30pm. You can book an appointment or simply pop in for a chat about your requirements. Our range of products is available to view and purchase any time during opening hours.
As part of the Syston charity shop, you are also able to purchase preloved goods including clothing, books and bric-a-brac.
Access
Our Syston shop is much easier to access, with the added benefit of free parking right outside the shop and an additional free car park opposite. There are regular bus services connecting Syston to Leicester, Loughborough, Melton Mowbray and surrounding villages. The Syston train station is a short walk away.
Products available include:
Anti-glare: Glasses and visors to prevent glare
Lighting: Lamps and daylight bulbs

Stationery: Signature guides, large print calendars and diaries

Entertainment: Easy-to-see remote controls and large print playing cards

Kitchen: Talking scales and easy-to-see timers

Personal Care: Magnifying mirrors and colour detectors

Mobility: Symbol canes and walking sticks

Clocks and watches: Easy-to-see talking clocks and watches

Phones and mobiles: Large button and easy to use landline and mobile phones

Assistive Technology: Electronic, desktop and portable magnifiers. 
For full address and postcode, please visit our contact page.

Our charity shop is open Monday to Saturday, 9am - 4:30pm. We provide expert advice on Tuesdays, Thursdays and Fridays, 10am - 3:30pm.
Online Catalogues
The following catalogues contain information about our products, listing our full range and prices. 
There are several simple ways to place an order:
You can call the Syston shop on 0116 264 0291 and pay for your items over the phone using your credit or debit card.

You can email shop@vistablind.org.uk to order your items and arrange payment.

You can visit the Syston shop and purchase your items directly.

You can place an order at our other charity shops (Oakham and Loughborough).

There is also the option to have your items delivered to your address (postage is free).
If you are unable to access these documents and would like them in an alternative format, please contact the marketing team at 
marketing@vistablind.org.uk
.
Find out more
For more information, please contact one of our team below.