Mobile Support Service offering sight loss advice at Clock Tower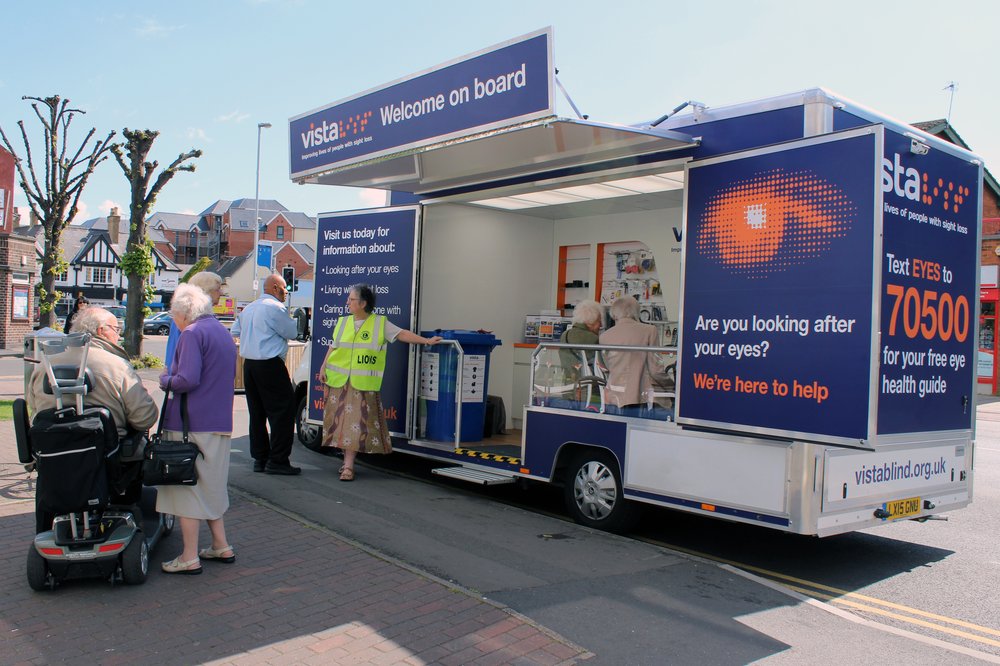 We will be visiting Leicester's Haymarket Memorial Clock Tower on Wednesday 21 September, 10am – 3pm, to mark National Eye Health Week (19 – 25 September). The awareness week aims to highlight the importance of regular sight tests.
With over two million people living with sight loss in the UK, over 50% of cases can be avoidable or treatable. A sight test is not just about checking your vision, they are also vital checks for various health conditions. If a problem is spotted early, conditions can be treated successfully to avoid potential sight loss.
Our Mobile Support Service vehicle will be right in the heart of the city centre, offering advice and support about living a healthy lifestyle, sight tests and spotting conditions, and the services available through Vista. During their time on board, visitors are also able to try out equipment and assistive technologies that can support people with sight loss.
Paul Bott, Chief Executive, said "Our Mobile Support Service has been visiting towns and villages across Leicester, Leicestershire and Rutland over the past year. The service aims to raise vital awareness and prevent avoidable sight loss."
"During National Eye Health Week we are looking forward to reaching lots of people, many not previously known by Vista, enabling local people to access dedicated information, advice and support in their communities."
David Cartwright, Chair of National Eye Health Week, said "Sight is the sense people fear losing the most, yet many of us don't know the best way to look after our eyes. This is why it is so important you get your eyes checked regularly as some conditions may not show symptoms. Go along to Vista's event to find out more."
You can contact a local optician for a sight test, which will be conducted by a qualified optometrist or an ophthalmic medical practitioner. Sight tests are free for children under the age of 16, over 60s, people registered with sight loss, diagnosed with diabetes or glaucoma, and those at risk of glaucoma.
A full list of dates, locations and times is available at our mobile support service page.
For more information about National Eye Health week, please visit www.visionmatters.org.uk