Vista's support goes mobile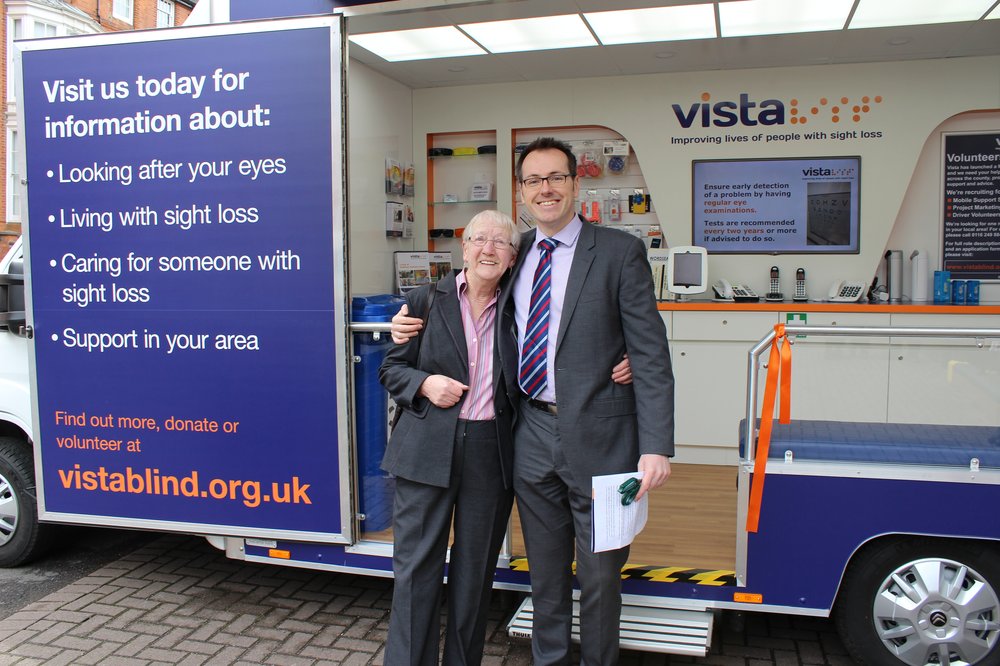 We have launched a Mobile Support Service for older people at risk of developing sight loss in Leicestershire. 
The service, in partnership with Leicestershire County Council, will tour the county in a specially designed mobile unit, providing information, support and advice. 
The bespoke facility was officially unveiled on Thursday 2 April by Barbara Mould, a service user and volunteer who has been involved with Vista for the past five years.
She said "Losing your sight is often a gradual process, and many people don't realise it's happening until it's too late. This new service will be able to reach more people, and raise awareness amongst those who wouldn't think to get their eyes tested."
"Since I became partially sighted, Vista has been extremely supportive and provided lots of useful information such as what gadgets are available and access to social groups."
The vehicle features an open plan welcome area, leaflet display and a seating area for individual consultation and support. During their time on board, visitors can:
Learn how a healthy lifestyle can reduce the risk of sight loss, the importance of regular sight tests and spotting conditions early
Find out more about the support and services available through Vista
Discover equipment and technologies that can support people with sight loss. 
The programme will also support older people already experiencing sight loss, enabling them to access dedicated information, advice and support in their local communities.
Paul Bott, Vista's Chief Executive, said "This exciting new project enables us to increase awareness of avoidable sight loss, in particular amongst older people. We believe that advice and support should be available in even the most rural communities, so we're taking our services on the road."
A full list of dates, locations and times is available on our mobile support service page.