Appeal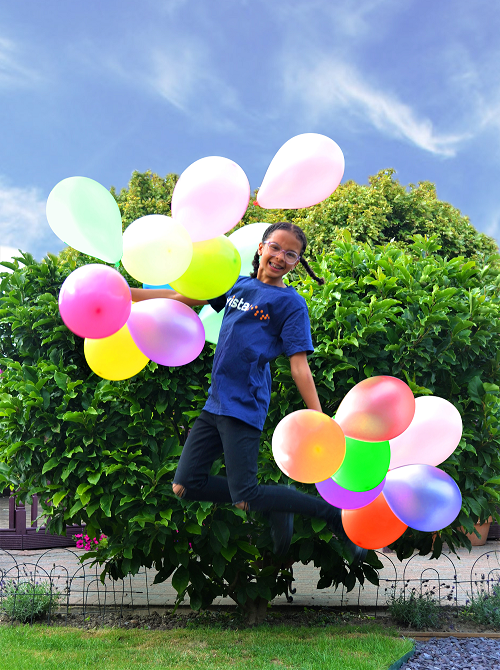 Vista's virtual balloon race

We are launching a 100% eco-friendly balloon race!
Eco-Racing simulate a 7-day computer generated balloon race. The event uses real time weather conditions to determine the progress of each balloon. Each balloon can then be tracked on Google Maps once launched.
Give thanks to our key workers over National Eye Health Week (Monday 21st – Sunday 27th September) and raise much needed funds for Vista.
The race will commence from Vista's head office, 16 New Walk on the first day of National Eye Health Week, 22nd September 2020 at 10:00 am.
You can buy your balloon at https://vista.rentaballoonrace.com/ for just £3 and nominate a key worker or loved one that has gone over and above during this difficult time.
The winner of the race will be the balloon that has travelled the most distance during the seven days. The owner of the winning balloon will receive a luxury food hamper for either their nominated keyworker or themselves.
If you have any questions, please contact paul.taylor@vistablind.org.uk. 
Covid-19 Appeal
We are in challenging and uncertain times. The COVID-19 virus has forced everyone – from individuals to major corporations – to change their behaviour, with major disruptions to services and daily life as a result.

For over 160 years, Vista has dedicated itself to supporting people affected by sight loss across Leicester, Leicestershire and Rutland. This will never change. However, because of the current climate, many of our services and charitable activities have had to.
Our social groups for the visually impaired, vital community lifelines for socially isolated people, have been suspended. Activities involving individuals who are especially at risk of coronavirus, including the elderly and people with complex needs, can no longer run.
And yet the need to support these people has not just gone away. They need us more than ever. Facing this pandemic, the people in our homes require even more support and protection; older individuals with visual impairments still face the negative effects of social isolation; the challenges of sight loss - the fear, despair and confusion it can bring - still remains.
We are rapidly evolving the way we work to ensure that we're of use during these difficult times. Though they can no longer meet as a group, we are keeping in contact with our social group attendees, battling loneliness and feelings of isolation with regular phone calls. For individuals without support networks who cannot leave their homes, we will be on hand with our minibuses to bring along shopping and other supplies. Our brilliant volunteers will be working with us to identify and support local people struggling to access other services.
And, even with many events postponed, our fundraising team continue to make links with the community, raising money and awareness for our vital charitable projects.
Vista is still here.
Things are not easy right now. For anyone. To adapt our services, to continue helping people affected by sight loss in our area, we need your help. Whether it's a monetary donation or getting involved with our virtual fundraising events, your support would be greatly appreciated.
Thank you. 
Book your challenge
If you would like to support Vista on any of our challenges, please complete the online registration form and one of our dedicated fundraisers will be in touch.
Run one of the World's most famous marathons for the leading local sight loss charity.
Take part in this fantastic event through the streets of Leicester, starting and finishing at Victoria Park.
Experience the incredible sport of skydiving!