Design Studio Architects revamp New Wycliffe Home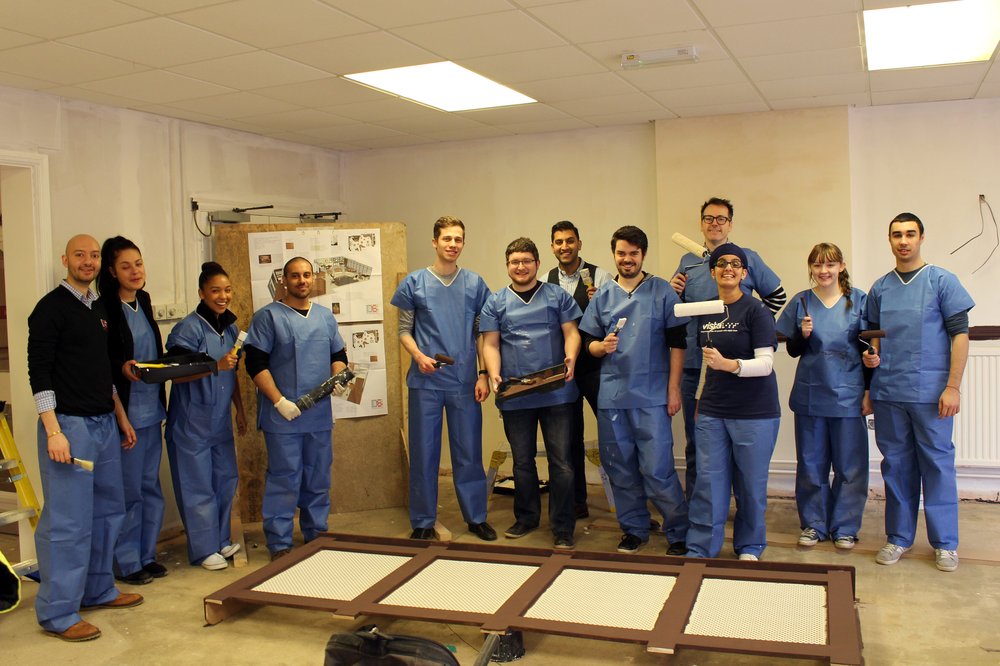 A Leicester based architect company has joined forces with Vista to improve the quality of life for people with sight loss. 
With funding from trusts and foundations, and in-kind support from Design Studio Architects, work has started to improve the New Wycliffe Home, one of Vista's residential homes for older people with a sensory impairment and people with dementia.
The team employed an interior designer to carefully redesign the home's main lounge and dining room, ensuring that residents can have the freedom to use the space as independently as possible. 
The makeover will include an entertainment area, a healthy snack bar, and zones where residents can sit and relax. Managing the project themselves, the architects have provided their design expertise to create a modern and therapeutic environment.
On Friday 18 March, employees from Design Studio Architects volunteered their time to help redecorate the home with a fresh lick of paint. Paul Bott, Vista's Chief Executive, also picked up a paintbrush and worked with the team.
Julie Rudd, Registered Manager at New Wycliffe Home, said: "We are blown away by the support the architects have shown. The interior designer has created a beautifully designed space that we could not have achieved ourselves, and we know that our residents will love using the new space.
"The makeover will add great value to the lives of our residents, where they can enjoy spending time with their friends and family in a safe, comfortable environment."
Keshiv Sudera, managing director of Design Studio Architects, said: "We feel the new classically inspired scheme will create a new lease of life to one of the most used facilities within the home. The space will create various zones which allow the residents to enjoy their environment in different ways, whilst reminding them of an era which they can relate back to."
Situated in Rushey Mead, New Wycliffe Home is an attractive, spacious home with peaceful outdoor areas. It has recently been awarded Care Home of the Year, and last summer opened the Butterfly Lounge – a state of the art, multifunctional living space which is a Department of Health 'Beacon Site' for improving dementia care. 
Design Studio Architects is a RIBA Chartered practice specialising in both residential and commercial planning and design. To find out more, visit www.designstudioarchitects.co.uk.