Dulcie gets creative making face masks for our Rothley charity shop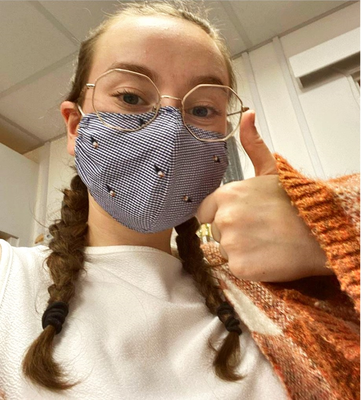 Dulcie has volunteered at our Rothley charity shop for over a year and started as a Duke of Edinburgh Volunteer. She is 16 years old and enjoyed it so much she has stayed.
Being particularly good at sewing, she regularly sends our, Esther our, Rothley Shop Manager, pictures of the clothes she makes from recycling old clothes from our Rothley charity shop.
Our Shop Manager, Esther Hartshorn, said: "during the lockdown, Dulcie and I were making things and upcycling clothes we bought from the shop and sharing our success on our shop Instagram page. When the charity shop reopened Dulcie came in wearing a lovely mask she had made herself." 
Esther then challenged Dulcie to make some face masks from recycled men's shirts with colour prints. She was happy to do so in her spare time and has made some fantastic face masks, to a very high standard. Our Rothley charity shop is selling them for just £3.
Esther added: "she makes them with such care and pride, and we have sold many to date! so get your hands on them now"
Please pop into our Rothley charity shop Tuesday – Saturday between 9:00 am - 4:00 pm. It will close for cleaning from 1:00 pm -1:30pm.