Messing about on the river with the Coalville Social group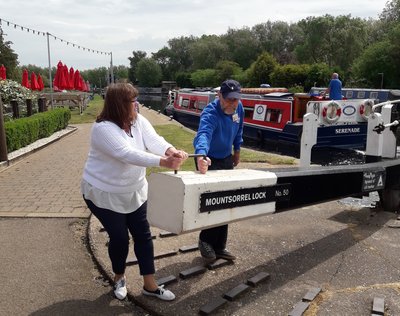 The Coalville social group enjoyed an exciting day out on the Grand Union Canal with the Peter le Merchant Trust.
With the sun still shining down, over two dozen members of the Coalville Social group travelled up to Loughborough and it wasn't long before they were all sat in a canal barge, specially designed to be as accessible as can be.
Joined by Susan Hoath, Vista chief executive, they were soon 'messing about on the river'; navigating their way through the winding canal basin and negotiating the complex locks. After the tiring work of winding paddles and cogs, and opening the lock gates, they enjoyed a well-deserved break in a local restaurant.
"It's always nice for a change", said Elizabeth Rogers, Vista's Social group Facilitator, "and when the weather is as nice as it has been it would be a shame to stay indoors. The group always like it when we have days out at the Peter le Merchant Trust".
For more information about the social groups, either visit the web-page here or message Elizabeth at elizabeth.rogers@vistablind.org.uk.