Vista represented at Everybody's reading festival 2019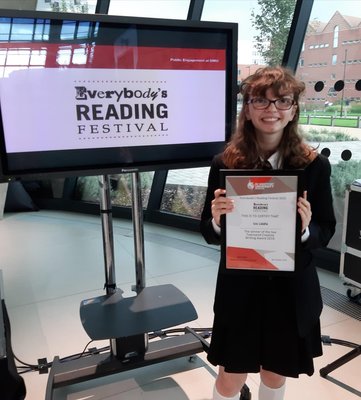 De Montfort University was the main sponsor and organiser of this year's prestigious; Everybody's Reading Festival in Leicester. 
The festival is city-wide and last year saw more than 100 events take place at 40 venues throughout Leicester involving everyone from children to grandparents on many of the city's estates. 
Event co-ordinator Jess Bogic said: "The event's aim is to take reading out to the wider community in Leicester so that children, parents, grandparents and the people of Leicester have an opportunity to come to events inspired by books, reading and words." 

Isis who became involved with Vista at the eye clinic eyecare path way where we supported her and her family in the early days through our Family Support Service, she has been involved in many of our children's activities and even been on the residential holidays with us. 
She is now one of our Peer mentors who Supports our Saturday morning cookery, her warm smile, calm approach and ability to share her journey with other young people is a credit to us and Isis herself.

Isis was also at the event and won the Sue Townsend Creative Writing Award 2019.
On winning the award Isis said: "I didn't expect much coming to the event, I was already happy enough to be invited and would gladly go home with that in mind. However, when Bali Rai said my name for the winner, I couldn't have been more ecstatic!"
Isis's mum Marsha commented: "As a parent, I was so delighted to be invited to the event, as I knew it had taken Isis a lot of hard work and determination over many years. These experiences of attending events are also quite exciting and eye opening for children and I wanted her to enjoy every minute. When they called her name as winner of the award, I must admit, a tear did appear as I was so proud of her achievements."