Dementia-friendly lounge and garden opens at Kathleen Rutland Home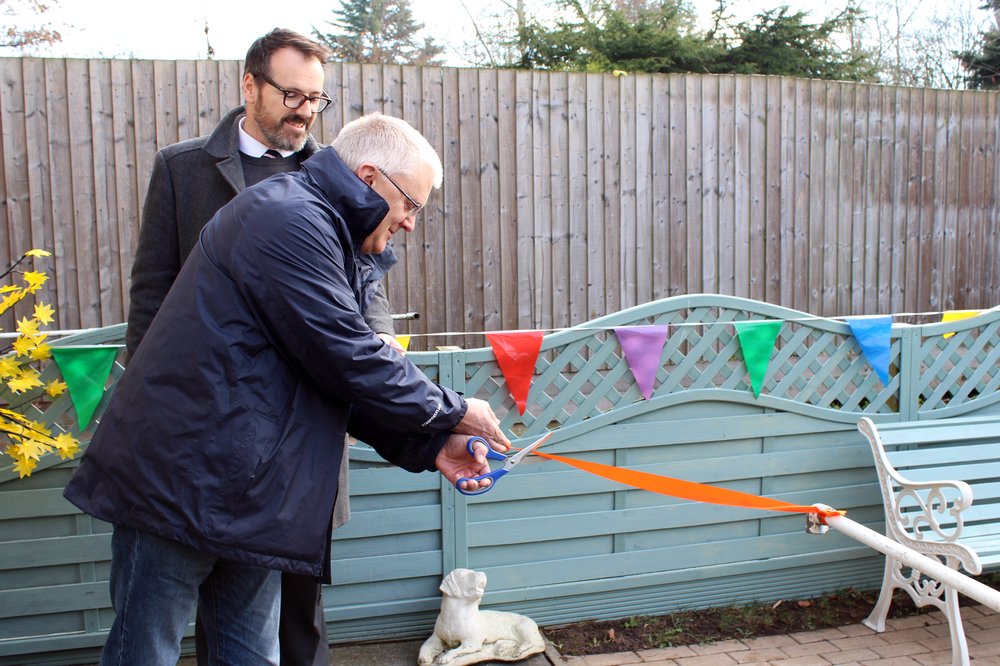 A multifunctional lounge and garden, specifically designed to meet the needs of older people with sight loss and dementia, has officially opened at Kathleen Rutland Home.
Unveiled on Wednesday 30 November, the multifunctional living spaces incorporate assistive and innovative technology to provide for sight loss and dementia needs.
The lounge was opened with a ribbon cutting by Christine Merrill, Chairman at Blaby District Council, and the garden was opened by Chris Arrowsmith, Interchange Manager at Global Payments.
The lounge includes a range of furnishings and decorations designed to generate nostalgia, helping people with dementia to feel more comfortable and familiar with their surroundings.
The new sensory garden has been created with input from residents and their families. Designed to stimulate senses and trigger memories, the garden includes sensory plants and a variety of mock shops, as well as a quiet seating area to offer a place of tranquillity.
Charlotte Jackson, Manager of Kathleen Rutland Home, said "The lounge and garden have been revolutionised in order to help our residents maintain their independence, reduce any distress and anxiety, and improve each person's health and emotional wellbeing."
"The lounge now has smaller seating areas, created for a more comfortable and intimate setting, where our residents can enjoy spending time."
"The garden provides a space where our residents can hold meaningful interactions away from the busy main lounge area, which can create distractions and confusion for those with dementia."
"These innovative facilities lead the way in improving the quality of care that we provide."
The lounge was kindly funded by Blaby District Council, W G Edwards Foundation and Baron Davenport's Charity. The garden was funded by the money raised from the Leicester Marathon 2014, including the team from Global Payments.
Kathleen Rutland Home, situated in Leicester Forest East, delivers high quality residential care to older people with a sensory impairment and people with dementia.
For more information, please visit our residential homes page.
To view more photos of the lounge and garden, please see our Facebook album.