HSBC Donation helps fund Vista's new digital project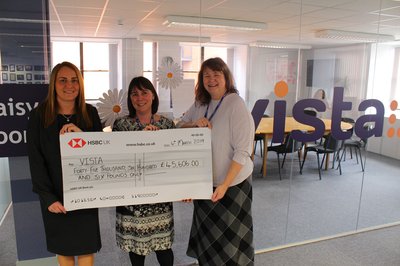 HSBC have started a new partnership Vista, donating a staggering £45,000 toward our new digital project.

The Vista project is going to be a brand-new online hub for people affected by sight loss across Leicester, Leicestershire and Rutland. It will allow people to connect more easily, engage with each other and share information, reducing social isolation.

Kate Naish, Vista's Director of Income Generation, said
"We are delighted with this donation from HSBC. £45,606 a fantastic amount of money and we appreciate their support. The partnership will continue beyond this initial donation too; once the hub is launched staff from HSBC will be involved in running sessions to help people access the new digital community. This is going to help us reach people in the communities we can't always get to and allow them to reach us too." 
This project will provide a fully accessible online space for people affected by sight loss to access support and opportunities tailored to meet their needs. It will offer support across Leicester, Leicestershire and Rutland to facilitate physical, social, and employment mobility. HSBC volunteers will give their time and expertise to support with the development of the programme.
We are now working to design and develop the interactive hub and plan to launch their digital community space later this year. A group of local people affected by sight loss are working with the developers to ensure that the site is fully accessible.