Launching Vista's spring raffle 2020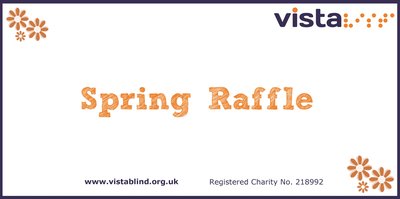 We've just launched our Spring Raffle with some fantastic cash prizes to be won. Your support will really make a difference to Vista and the work that we do every day. Money raised from Vista's spring raffle will go towards the many services for people affected by sight loss in Leicester, Leicestershire and Rutland that we support, such as rehabilitation, support for children and young people and residential services for adults with sight loss, dementia and learning difficulties.
Tickets are £1 each or you can buy a book of 5 for £5.00.
   First prize: £1,000
   Second prize: £250
   Third prize: £150
All tickets must be posted to Vista head office at 16 New Walk,  Leicester, LE1 6UB and returned by 4.30pm on 20th July 2020 ready for the draw on 27th July 2020.
Any late ticket stubs unfortunately, cannot be entered into the draw but will instead be treated as donations.
Please help us to make our 2020 raffle the most successful yet.
GOOD LUCK!