Vista boosted by donation from Santander Foundation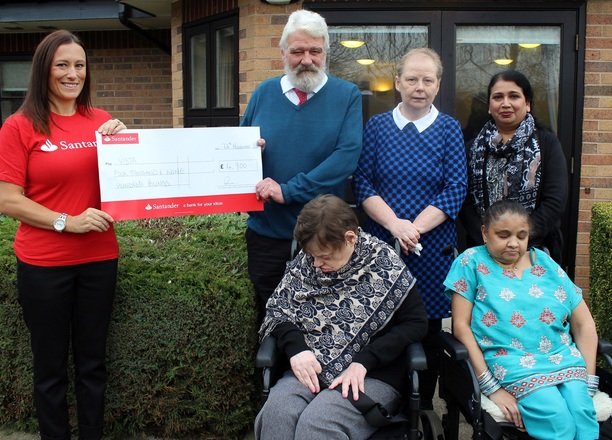 We have received £4,900 to fund the refurbishment of a therapeutic art room at Simmins Crescent in Leicester, one of our residential homes for adults with sight loss and additional complex learning disabilities.
The donation was provided by the Santander Foundation, which offers grants to UK registered charities for projects that help disadvantaged people in local communities.
The current art room at Simmins Crescent is small with tables and chairs taking up a lot of space. This makes it difficult for people who rely on a wheelchair for mobility to access the art room, particularly when they require supervision. The storage units, sinks, tables and chairs are not accessible for wheelchair users, and the tile floor can become very slippery, which creates a hazard for some residents.
The grant will allow the refurbishment of the art room so it can be easily used by all residents and provide a place of comfort and security, where they can relax whenever they feel distressed or anxious.
The tables and chairs will be replaced with wheelchair accessible worktables, and positioned around the edge of the room, along with new storage units and movable art trolleys. This will maximise the space available and make it easier for residents to navigate the room. The slippery tiled floor will also be replaced with non-slip linoleum.
The walls will be painted in serene colours and contrasted with the furnishings to aid navigation for people with sight loss, while a new sound system will play soothing music.
Peter Kazakevics, Manager at Simmins Crescent, said "This generous grant from Santander will help us to create a comfortable, safe and secure environment where our residents can participate in their favourite artistic activities and benefit from its therapeutic influence."
"It will help us to bring joy to the lives of our residents and improve their emotional wellbeing, giving them the opportunity to express themselves creatively, and build their confidence and self-esteem through the recognition they receive for their artistic achievements."
Baljit Singh, Finance Professional at Santander's Leicester branch said "The Santander Foundation makes hundreds of donations every year to good causes throughout the UK. Our branch is committed to playing a key part in the community and we are delighted to be supporting Vista, and hope the donation makes a real difference to local people."
To find out more, visit our charitable trusts and foundations page.