Vista's Kathleen Rutland Home receives a 'Good' rating from CQC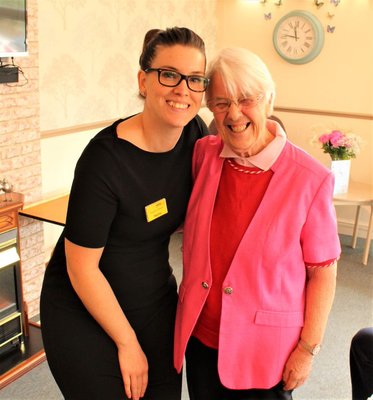 Whilst the care at Vista's residential homes continues to be of a very high standard, over the last 12 months, the Kathleen Rutland home, has been working hard to achieve their 'good' rating and are now pleased to announce they have recently been awarded a 'good' rating by the CQC.
The dedicated team at the care home, led by the Residential Home Manager Hayley Barr, have made many improvements, offering an increased number of activities as well as investing heavily in staff training.
The home, which specialises in sight loss and dementia, provides warm and welcoming communal living rooms, quiet areas to sit and relax in with comfortable en-suite bedrooms and attractive gardens. In addition, they offer an extensive range of activities from exercise classes, cookery, crafts and visiting entertainers. With their own transport, residents can enjoy activities outside of the home too. The home currently has spaces available for short term respite care.
Residents and their relatives all made very positive comments about the home. One resident said, "It's a very nice place… I would recommend it", and a relative proclaimed that "It's the best home ever, when they walked in, she said,' home sweet home' "I can't fault it after four years."
 Hayley Barr, Residential Manager at Kathleen Rutland Home, said: "We offer the highest standard of care and we're very pleased that this has been recognised by the CQC and we have been awarded a 'good' rating. Well done to all of the team at the home for working hard to achieve this."
 The Kathleen Rutland Home is located at 117 Hinckley Road, Leicester Forest East, LE3 3PF.
For more information about the home or to arrange a visit please call Hayley on 0116 239 4234 or email: Kathleen.rutland@vistablinf.org.uk