Cyber Café opens at New Wycliffe Home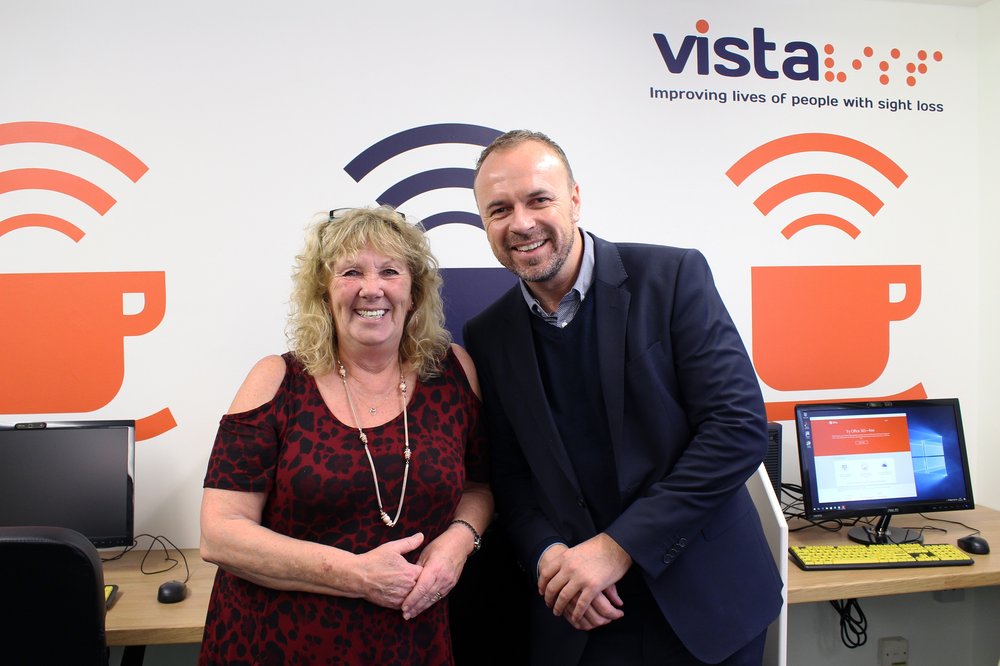 A Cyber Café has officially opened at our New Wycliffe Home. Taking place on Tuesday 17 January, the opening ceremony involved a ribbon cutting by Brett Critchley, a partner at PKF Cooper Parry.
The new Cyber Café includes several desktop computers, laptops and tablet devices, providing opportunities for residents to access digital technology whenever they wish to.
The room has been specifically designed to meet the needs of older people with sight loss and dementia, with a homely environment to provide a calming space. There are also accessible worktops, colour contrasting schemes and furnishings with rounded edges, allowing residents to navigate the area safely.
The café will enable residents to communicate and engage with their friends and family; provide the chance to learn new skills and access online information; alleviate boredom; and reduce any distress amongst residents with dementia through engagement with online content that they find familiar and relaxing.
Members of staff at the home will be providing ongoing support and training, helping residents to feel confident enough to use the technology independently wherever possible.
Julie Rudd, Manager of New Wycliffe Home, said "This is an incredible new space, designed to improve the quality of care we offer to our residents."
"Although online communication will never replace face-to-face visits, the Cyber Café will help our residents to stay in touch with their loved ones on a regular basis. We hope this will reduce feelings of isolation and improve emotional wellbeing."
The Cyber Café has been kindly funded by The Act Foundation, with IT equipment supplied by PKF Cooper Parry, and in-kind design planning from Design Studio Architects.
To see more photos of the Cyber Café, please view our Facebook album.
For more information about the home, visit our residential homes page.