It's the little things we did that made the biggest difference...
We've just launched our Christmas appeal and we'd like to tell you about the little things we did that made the biggest difference to people affected by sight loss in Leicester, Leicestershire and Rutland. 

Take a few minutes to read this letter from Steve Payne, our Director of Care and Services and find out how you can show your support for people with sight loss this Christmas.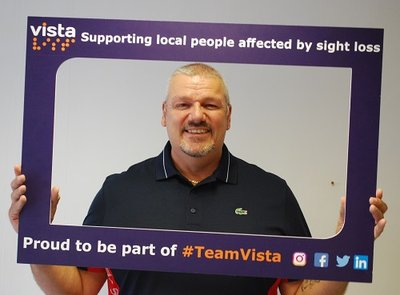 My name is Steve. I'm the Director of Care and Services here at Vista and I'm asking for your help. Covid-19 has been the story for much of 2021 but Vista has still been here for local people affected by sight loss. Losing your sight can be lonely and scary, and the pandemic only made things harder for the people we support.
At Vista, we adapted our services, protected our care home residents, and stayed open throughout the pandemic – big measures that I'm very proud of. But as is often the case, it's the little things we did that made the biggest difference.
We installed protective screens in our care homes. Covid was keeping residents and their families apart. These screens brought people like Gloria and her niece Paula back together, allowing residents to truly connect with their loved ones, which was a joy to see.
Vista runs a series of music and activity sessions for children with sight loss. They're really important for children like Arlo. The music is beneficial for Arlo's speech, his mum said "It helps him find ways of expressing himself independently and has boosted his communication and development." During the pandemic, we've ran these sessions through Zoom. This means children like Arlo don't have to miss out on something that is so important to them. 
Lastly, I want to tell you about Sharon who volunteers her time to call individuals who are at threat of social isolation due to the pandemic and their sight loss. Alongside her friendly chats, Sharon who is visually impaired herself, has helped a person she talks to access a talking book service after discovering they couldn't read physical copies, and she's linked them to other Vista services too. She proves that Vista is more than an organisation. It's a community where we all work to help one another.
These small stories can sometimes go unnoticed, but I am so proud of them and I wanted to share them with you. Adapting our services and keeping people safe has been costly and our fundraising opportunities have been limited. So this Christmas I'm asking for your support. 
Your donation can help Vista do "little things" which can make a very big difference for people living with sight loss. You can donate by calling us on 0116 249 8801 or at www.justgiving.com/campaign/vista2021.