Join Vista's Weather Lottery for your chance to win up to £25,000!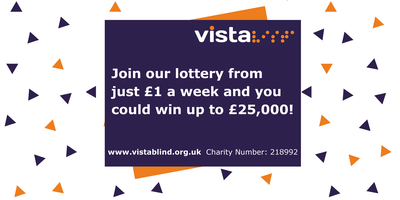 Vista has joined forces with The Weather Lottery to help raise funds so we can continue to support people affected by sight loss.
Playing is easy, you play with just £1 per week for each unique six-digit lottery number to be entered into the 'Weather Lottery' draw.
The draw will take place every Monday where each entry has the chance to win cash prizes of up to £25,000!
The jackpot won't be split, and winners will be sent a cheque directly following each draw.
Lisa Harrison Byrne, our Fundraising and Partnerships Manager,  says: "We're delighted to be involved in The Weather Lottery, it's an easy and exciting way to get lots of people involved in raising money for Vista."
Sign up now or visit The Weather Lottery's website for more information about how it works, if you have any questions call us on 0116 249 8801.