Lifelong Leicester City fan walks to Wembley in aid of Vista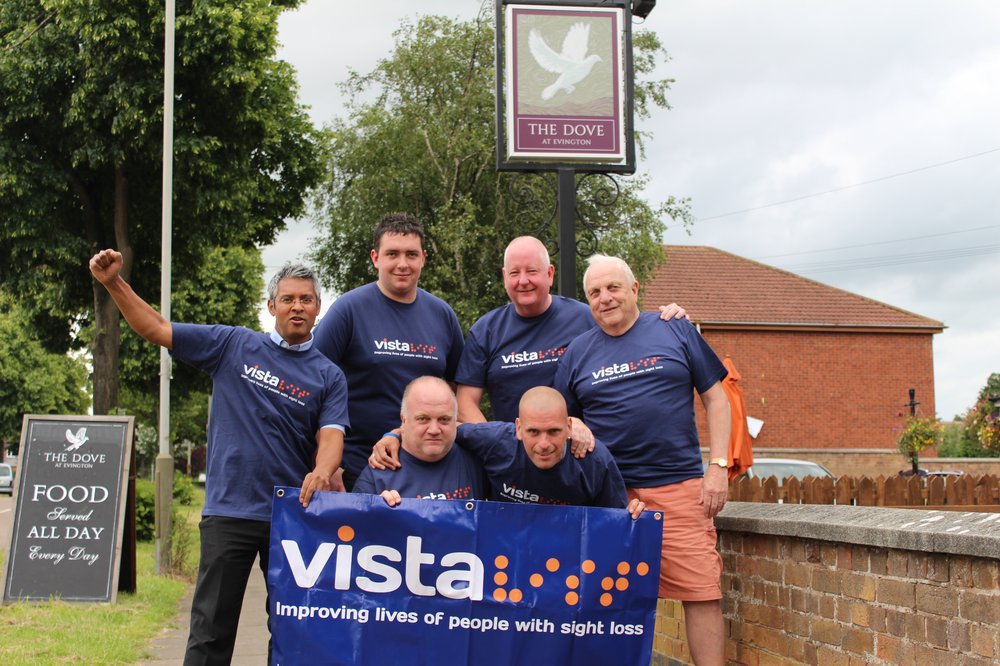 Born and bred Leicester City supporter Martyn Richardson is taking on the challenge to walk the 100 miles from King Power Stadium to Wembley Stadium, in order to raise vital funds for the charity.
Martyn plans to set off from Leicester on Monday 1 August, and arrive at Wembley six days later in time for the FA Community Shield supported by McDonalds (Charity Cup).
He will be joined by friends and family, as well as his Vista Befriender Pardy Gill. Martyn said: "Pardy and I met through Vista's Befriending service and over the last few months he's introduced me to new friends, and given me the confidence to out and about. I feel more energised, and if it wasn't for Pardy I probably wouldn't be taking on this challenge now."
The former pub landlord has a rare eye condition called Leber's disease, which has had a severe effect on his vision. Martyn first became aware of it in March last year, and by July had registered with Vista.
He said: "I was at an away game against West Brom when I first realised there was something wrong, I could see the players but not the ball. My eyes started to deteriorate quite quickly after that, and it was around the time LCFC were starting to do better!"
At 47 years old, Martyn has been a Foxes fan for all of his life, attending his first game when he was 5 years old, and following the team around the country. Despite losing his vision, Martyn still goes to games to soak up the atmosphere.
He said: "Vista have been so supportive, the rehabilitation team have visited me at home, I've been taught how to use a cane, and they have introduced me to lots of gadgets to make my life a bit easier. I really wanted to do something to say thanks, and this challenge gives me the opportunity to tie it in with my love for LCFC.
"I've never walked this far before, especially now that I use a cane, so I know I've got a huge challenge ahead of me. My aim is to raise £5,000, and I hope lots of people will get behind this very worthy cause."
To show your support please visit Martyn's JustGiving page – www.justgiving.com/fundraising/Martyn-Richardson or you can text MRWW48 £10 (or the amount you wish) to 70070 from your mobile phone.
For more information about Martyn's Walk to Wembley, or if you feel inspired to do your own fundraising challenge, please contact Louise Hall, Corporate and Community Fundraiser at Vista, at louise.hall@vistablind.org.uk or call 0116 249 8807.