A look back on another brilliant year at Vista, Part 2
Volunteers Week puts unsung heroes in the spotlight 
June 1st to June 7th is international Volunteer's Week, where charities from around the World celebrate the hard work and dedication of an army of volunteers, and Vista is no different.

Rayhana Brydson, Vista's volunteer development manager, said 'We have a total of a whopping 286 registered volunteers who support us across a huge number of roles. They work in our head office, our charity shops, in our residential homes, and County hospitals. We would not be able to support the thousands of people we do without their hard work.
Vista's Kathleen Rutland Home receives a 'Good' rating from CQC

Whilst the care at Vista's residential homes continues to be of a very high standard, over the last 12 months, the Kathleen Rutland home, has been working hard to achieve their 'good' rating and are now pleased to announce they have recently been awarded a 'good' rating by the CQC.
The dedicated team at the care home, led by the Residential Home Manager Hayley Barr, have made many improvements, offering an increased number of activities as well as investing heavily in staff training.
Vista peer mentors splashed down at the Leicester Outdoor pursuits centre

On Tuesday 23rd of July, we held our peer mentor event at  Leicester Outdoor pursuits centre. Peer mentors and other young people took part in abseiling & bell boating in a day full of fun and frolics. 
We gained some amazing outcomes of confidence with the Peer mentors encouraging other young people to have a go. The young people worked together and developed their teamwork skills, and there were many who conquered fears, whether it was when they first step over the edge of the abseiling wall or jumping into deep lake water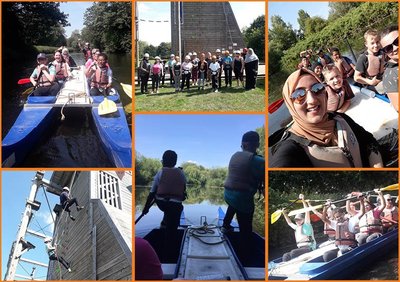 Vista's Simmins Crescent Home receives a 'Good' rating from CQC
Anything you can do...
Following a surprise visit from the CQC, our Simmins Crescent home was rated 'Good' too, bringing all of our residential homes up to that rating. It followed a year of hard work and dedication with the staff and management putting their all into ensuring they gave the utmost care all the time.
National Eye Health Week: where everyone came together

National Eye Health Week 2019 was a massive success. We had our information bus stationed and stand in Highcross this week and have given free eye screenings to well over 100 people. Some of those people we have been speaking to had not been paying any attention to their eye health, neglecting to have any sort of eye test for as long as they could remember in one case. The very fact we have been able to inform as many people that we have about the need for regular eye tests and the dangers that different eye conditions can cause is testament to the hard work and dedication of our staff and volunteers this week. 

Isis represented Vista at Everybody's reading festival 2019

Isis who became involved with Vista at the eye clinic eyecare path way where we supported her and her family in the early days through our Family Support Service, she has been involved in many of our children's activities and even been on the residential holidays with us. Isis won the Sue Townsend Creative Writing Award 2019.
On winning the award Isis said: "I didn't expect much coming to the event, I was already happy enough to be invited and would gladly go home with that in mind. However, when Bali Rai said my name for the winner, I couldn't have been more ecstatic!"