Mike Kapur OBE visits Vista's Kathleen Rutland Home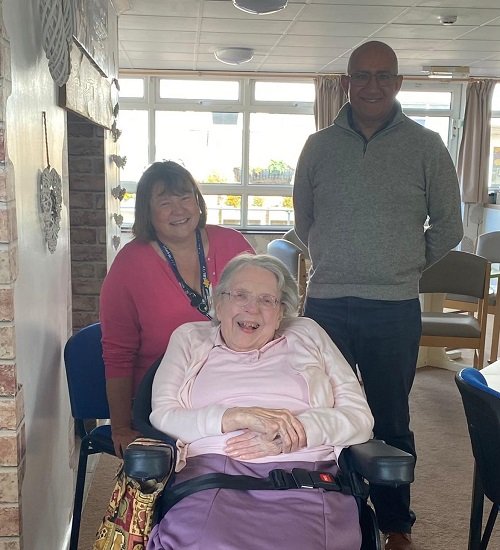 We were privileged to have had a visit at their Kathleen Rutland Home from Mike Kapur OBE today.
As Vista's new patron, this was an opportunity for Mike, who has long and fond connections with Vista, to visit the charity's Kathleen Rutland Home and meet and chat to its residents. Susan Hoath, CEO and Steve Payne, Director of Care and Services at Vista accompanied Mike Kapur OBE on the visit.
Mike Kapur OBE said:
"I really enjoyed visiting the Kathleen Rutland Home again: almost 38 years since my first visit there as a young intern. It was a pleasure meeting the lovely residents and learning of the charity's exciting future plans"
Susan Hoath, Chief Executive at Vista said:
"It was a real pleasure to welcome the Lord Lieutenant to our Kathleen Rutland Home today. We are so proud of the work that the Vista team do here on site, in our other homes and across local communities and it's always nice to share that with others."
She added:
"Whilst he was here we also showed Mike Kapur our plans for a Sight Loss Centre to be built here in Leicester Forest East. The first of its kind in the UK, the centre will bring together services, support and care for people affected by sight loss of all ages."