Loughborough charity shop celebrates first anniversary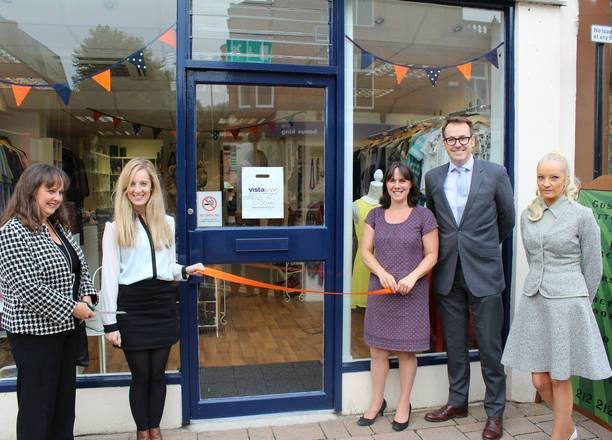 We will be celebrating the first birthday of our Loughborough charity shop on Friday 16 September, 10:30am. We are marking the occasion at the shop in Loughborough's Cattle Market, with the cutting of a birthday cake and a raffle.
Kate Naish, Director of Income Generation at Vista, said "We're celebrating the success of our second charity shop in Loughborough – despite being broken into two days after opening, we have bounced back thanks to support from local shoppers and volunteers."
Sally Thomas, Retail Operations manager at Vista said "The charity would like to thank all the volunteers who have generously given their time to help in the shop over the last twelve months, and would like to encourage new volunteers to join the team."
"Throughout the year we've had new people join us, had lots of donations brought into us, and have had the chance to get to know the local community. Anyone who is interested in getting involved is welcome to drop in anytime to have a chat."
Our charity shop is located at 8 Cattle Market, Loughborough, and sells high quality donated goods, including clothing, books and bric-a-brac, as well as a selection of assistive technology for people with sight loss.
Celebrations are taking place on Friday 16 September, at 10:30am, with a birthday themed window display and a raffle.
For more information, please visit www.vistablind.org.uk/shops