National Eye Health Week: A Huge Thank You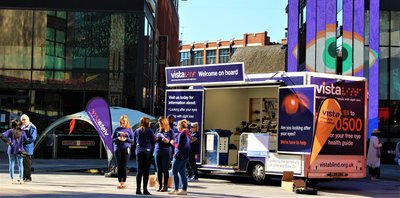 National Eye Health Week 2018 has come and now sadly gone, but Vista can declare the week of awareness a massive success. 
We have had our information bus stationed and stand in Highcross this week and have given free eye screenings to dozens and dozens of people. Some of those people we have been speaking to had not been paying any attention to their eye health, neglecting to have any sort of eye test in over 10 years in one case. The very fact we have been able to inform as many people that we have about the need for regular eye tests and the dangers that different eye conditions can cause is testament to the hard work and dedication of our staff and volunteers this week.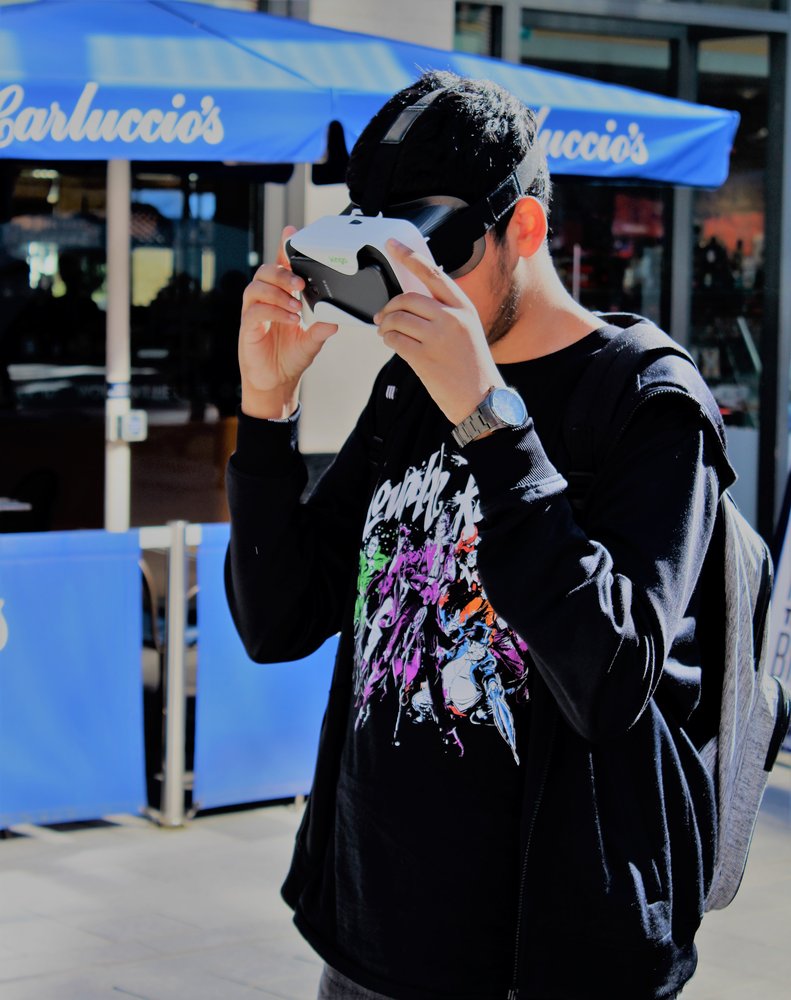 From giving out leaflets, free eye screenings, through to interactive apps and VR headsets, Vista has used every method possible to engage with as many members of the public as we can. 
Not only that, our appearance on the Jimmy Carpenter afternoon show on BBC Radio Leicester, not to mention full page spread in the Leicester Mercury, has helped to spread the message. Whether or not people came by our stand or saw or not, they were aware of the need to pay attention to their own eye health.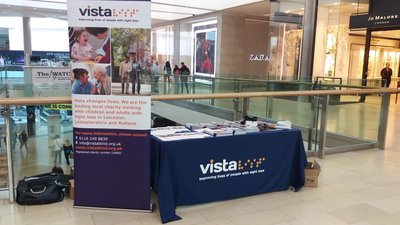 We must of course thank everyone who has helped us with this week. 
First and foremost, the Highcross. We would not have been able to do anything without the kind generosity of their staff and community team, who gave us the space in both St. Peter's Square and inside on a stall. If we were not able to get these spaces then we would have been severely limited in what activities we could have run for National Eye Health Week. Not only that, but they even went so far as to specially design graphics for the Beacons in Highcross, designed to draw people to us and make them aware of our cause. 
And of course, Irwin Mitchell. Our perennial supporter, they supplied not only freebies and goodies to hand out, the anti-bacterial hand gel, pens, and much sought after stress balls, but also printed off lots of information leaflets for us. And to top it all off the had members of staff volunteer to travel down to Leicester and give their time to help us this week; talking to members of the public, playing with early years children with the 'Let's Get Going! Resource Pack', and having their own eyes screened. 
Last, but by no means least; the staff who helped us this week. Everyone, from our volunteers, to the marketing and fundraising teams, and the community services staff, everyone has worked exceedingly hard this week and helped us to make this one of our best events ever. 
Now, let's see what's in store National Eye Health Week 2019!