Plain sailing for Margaret as she unveils new dinghy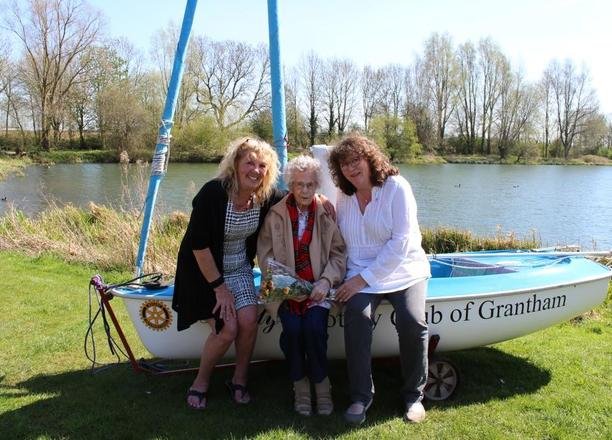 Margaret Manschott, a resident at our New Wycliffe Home, has unveiled a sailing dinghy as part of a special project which takes elderly people and those with learning disabilities sailing, on the John Merrick's Lake at Watermead Park.
Margaret, who is 102 years old, poured Champagne on the new dinghy, named Liberty, before taking it for its first sail around the lake accompanied by an instructor.
The Sailability Project, manned by volunteers and supported by local rotary clubs, is run by Mosaic: shaping disability services, a charity in Leicester that provides a variety of services for disabled people. Thanks to the partnership with Vista, around 20 residents regularly get to enjoy sailing sessions.
Margaret said "I used to go sailing with my husband many years ago and it is wonderful to be doing it again."
Susan Hough, Activities Co-ordinator at New Wycliffe Home, said "It has been just amazing. We take people with sight loss and dementia and it is just incredible how much they enjoy the activity."
"There is one man with dementia who cannot speak but once he is out on the water he is just at peace. You can see the joy in his eyes."
The new dinghy has been donated by Rutland Sailability and means more residents can get out on the water.
Suzy Smalley, Project Co-ordinator for Mosaic: shaping disability services, said "The transformation in people when they are out on the water is unbelievable and having an extra dinghy means we will be able to take more people out."
To view more photos of the dinghy launch, visit our Facebook album.