Rotary Club of Ashby de la Zouch Castle donates £1000 to Vista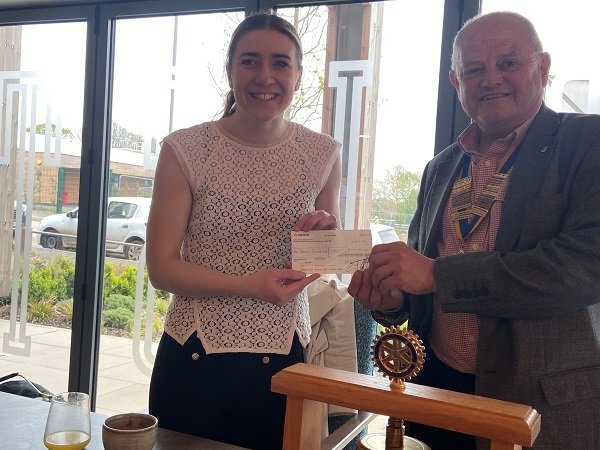 The Rotary Club of Ashby de la Zouch Castle enters its 75th year looking forward to continuing supporting and working with the community. Kevin Sanders from the Rotary Club recently presented a cheque for £1000 to Community Fundraiser Libby Clegg at Vista.
The donation is very welcome indeed – the past two and half years have been extremely challenging for the charity and the people Vista support. Losing your sight can be very frightening in normal times but in a national lockdown, feelings of isolation and loneliness were extreme. When many other support agencies closed Vista didn't. We continued to provide face to face support and vital help to people affected by sight loss in Leicester, Leicestershire and Rutland.
For example, when the first lockdown began and where consent was given, the charity identified those living alone who needed help. Vista called 369 visually impaired clients in Leicester, 597 across the county and 234 in Rutland. The charity provided an essentials shopping service with door-to-door deliveries of food and medication whenever it was needed throughout the pandemic.
Libby Clegg, Community Fundraiser at Vista said:
"I received a warm welcome from everyone at the rotary. It was lovely sharing my story and Vista's with them. We really appreciate the generous donation they gave us. Our fundraising was severely impacted during the pandemic and this valued donation is very much appreciated. A massive thank you to everyone at the rotary."
We are now calling on other community organisations for much needed support and would love to hear from them. If your organisation or group can help in anyway, please contact Libby on 0116 249 8801 or at
libby.clegg@vistablind.org.uk
.