Take on the 2.6 Challenge and help us support people with sight loss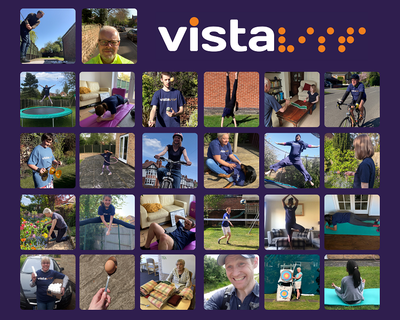 Following the London Marathon being postponed, organisers from some of the biggest mass-participation events have come together to create the 2.6 Challenge.
This exciting challenge was launched on 26th April 2020, which would have marked the 40th edition of the London Marathon. The challenge is designed to help raise vital funds to support charities like Vista during this unprecedented time.
So, we are asking you to get involved by choosing a challenge based on the number 26 or 2.6 and fundraise on behalf of Vista. This could be something as simple as pledging to exercise for 26 minutes a day, trying a challenge for 26 days, it really is all about using your imagination and doing what's right for you!

Paul Taylor, Vista's Corporate and Community Fundraiser said; "please get involved in the 2.6 Challenge and help raise money for Vista. This is a simple but fun for the whole family, anyone can join in. We've already had a resident at our Kathleen Rutland Home take part by folding 26 napkins."
Whether you run a marathon or learn 26 yoga poses, we need your support!  
We have come across some exciting challenges from our supporters so far, including 384 laps around a garden (the equivalent of the London Marathon).  
Start fundraising for Vista or donate now. You can find out more information about the 2.6 Challenge by visiting https://www.twopointsixchallenge.co.uk/