Team Vista take on paracycling challenge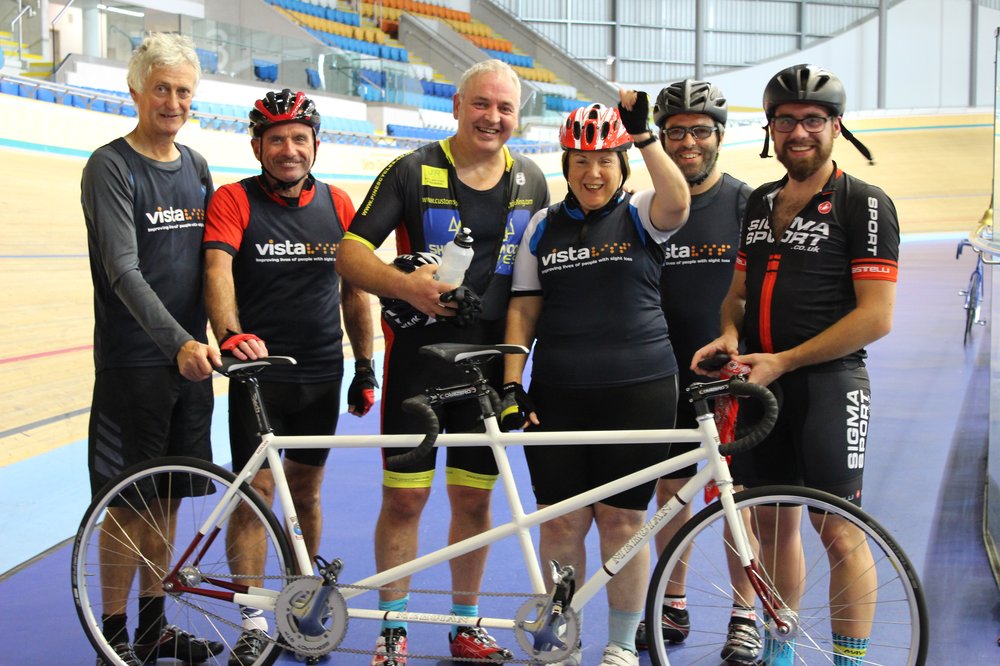 On Friday 16 September, a team of Vista supporters took on a paracycling challenge at a local velodrome in order to raise vital funds.
The group of five, some with a visual impairment, conquered as many laps as possible within 30 minutes, on a tandem bike with a professional 'pilot' riding on the front.
Duncan Ellis said "When I became partially sighted two years ago, I wasn't able to continue my job in the motor trade and was struggling to find employment. I went to Vista for voluntary work, which helped me develop new skills, and now I've found a new career. Raising funds for the charity is my way of saying thanks and this was a great event to be part of."
Graham Cameron said "I'm retired, a regular cyclist and part of the Leicester Scouts Mountain Bike Activity Team, but I had never cycled in a velodrome. My friend recently became visually impaired and my late father had glaucoma, and so I wanted to support my local sight loss charity."
Ruth Mays MBE, a retired teacher, said: "Since retiring, I'll say yes to anything new! This has been a big challenge for me – paracycling was so exciting and totally out of my comfort zone! Team Vista really has done ourselves proud."
Natty Hall said "I'm a regular cyc­list - it's my job, my transport and my hobby. I took part in the event blindfolded to try and experience the challenge of a visual impairment. It was an unforgettable experience, which sometimes felt scary - I couldn't tell if we were going up or down the slope, or even left or right. I take my hat off to people who face similar issues every day."
Ray Peacock, Vista Volunteer, said "I'm always looking to try something new, and this fun event has been a great way to work as a team and raise funds for a fantastic charity. Thanks Vista for such a great experience."
Completing 268 laps in total, Team Vista exceeded both their physical and fundraising expectations, raising over £200 each for the charity.
Louise Hall, Community and Corporate Fundraiser, said "This was an amazing event, with incredible efforts from everyone involved. Our diverse team did a great job of supporting each other in making the day a success."
"The pilots were also wonderful. They were considerate of all the different riders, helping them to feel relaxed in a challenging situation, enabling them to really enjoy the experience."
"The team have raised over £1200 to support people with sight loss in Leicester, Leicestershire and Rutland. We're so grateful for their fundraising efforts, as voluntary income is vital for continuing Vista's services."
If you would like to support Team Vista, please visit www.vistablind.org.uk/donate
To see more photos of the event, please view our facebook album.
The event was organised in partnership with My Sight Nottinghamshire and Sight Concern Derbyshire, and took place at Derby Arena.