TV Licensing urge customers to be aware of scam artists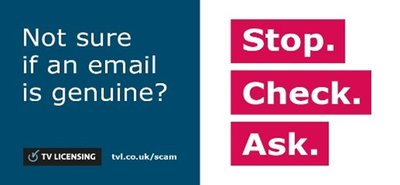 Scams are on the increase everywhere, which is why TV Licensing have asked us to share the following information with you to help you protect yourself against fraudsters.
TV Licensing have published advice on its website - tvl.co.uk/scams - including a new downloadable booklet which is full of advice on what to look out for.
TV Licensing will only phone customers occasionally if there is a problem with their TV licence, and it will usually be about a missed payment, a cancelled Direct Debit or a reminder to renew. Genuine TV Licensing emails and letters are personalised to include details such as your name, partial postcode or licence number. Many scams simply say 'Dear Customer' or use an email address and may have a made-up postcode or licence number. Scams will often say there is a problem with the licence or that the customer is due a refund, to try coax customers into giving their bank details.
To help stop the scammers, TV Licensing are asking people to stop - check - ask if they receive any suspicious communications from TV Licensing.
Stop – Scammers will attempt to trick you into giving away your personal or bank details. Always be wary of letters, emails, texts or phone calls that promise you money or a refund.
Check – Is the sender correct and have they used your name? Are there any spelling or grammar mistakes? You should also make sure they have included the correct licence number, which you can check on the TV Licensing website.
Ask – If you're ever unsure about a communication you've received, it's always best to ask someone, perhaps a friend or trusted advisor.  You can go to the TV Licensing website and sign in to your licence at tvl.co.uk/yourlicence to check if anything is actually wrong, or you can call TV Licensing on 0300 303 9695 to speak with someone who can help. For more information on what to look out for, including the new downloadable booklet, visit tvl.co.uk/scams.
Anyone who has provided their details as a result of a fraudulent email should contact their bank urgently and report the scam email to Action Fraud. If you are made aware of any suspicious emails, please forward them to report@phishing.gov.uk and they will investigate. If the email links to a scam website it will be taken down or blocked.