Visit Vista's new office this Saturday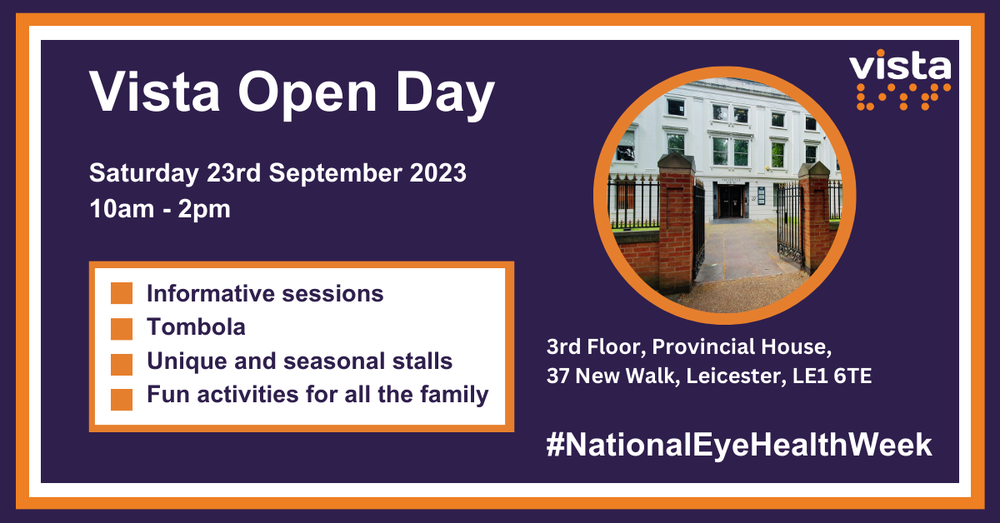 We would like to invite the local community to come along to our open day on Saturday 23rd September 2023. It will be held at Vita's new offices on the 3rd Floor, Provincial House, 37 New Walk, Leicester, LE1 6TE from 10:00am until 2:00pm. This event promises a unique opportunity to explore our services, meet our dedicated team who support children, adults and families affected by sight loss in Leicester, Leicestershire and Rutland and gain insights into our work.
During the open day you can:
1. Explore Vista's new offices: Experience firsthand the welcoming atmosphere of their 3rd Floor headquarters. Discover how the charity has evolved to better serve the community.
2. Meet the team: Interact with Vista's passionate team members who are committed to making a difference in the lives of those with visual impairments. Learn about their diverse roles and the impact they create.
3. Independent Living session (10:45am): Book your place for this informative session, where you'll gain insights into achieving greater independence while living with sight loss.
4. Available grants and funding (11:45am): Learn about the support available for individuals with visual impairments.
5. Volunteering at Vista session (12:15pm): Discover how you can contribute to Vista's mission by becoming a volunteer. Learn about the various volunteering opportunities and the difference you can make.
6. Consultation review session (12:45pm): Participate in this session to understand the consultation process and how Vista works collaboratively with individuals to provide tailored support.
To reserve your spot for any of these sessions, please visit www.vistablind.org.uk/OpenDay2023 or for more information contact us on 0116 249 8839.