Vista gets a helping hand from The Screwfix Foundation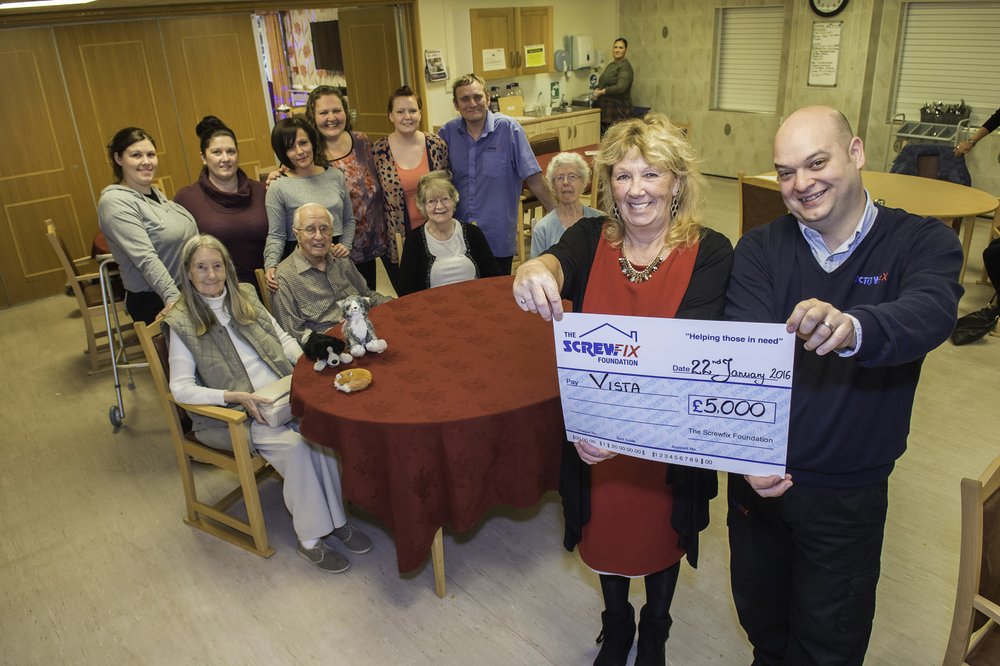 We have been awarded £5,000 worth of funding from The Screwfix Foundation, a charity which supports projects to fix, repair, maintain and improve properties and facilities for those in need.
Julie Rudd, Residential Manager at New Wycliffe Home, said "We are very grateful to The Screwfix Foundation for donating these much needed funds to support our charity. 

"The funding will be put toward the refurbishment of a communal lounge and dining area in our residential home. We'd like to thank everyone who was involved in the fundraising – it's been a great help to us."

Shane Stevens, Store Manager of the Screwfix store in Leicester, said "We're really pleased that one of our local charities has been awarded funding by The Screwfix Foundation. Staff from across the business have held a variety of fundraising events to raise vital funds for The Screwfix Foundation, so it's fantastic to see the money we have raised being invested back into such a worthwhile community project."

The Screwfix Foundation, which launched in April 2013, donates much needed funding to help a variety of local projects throughout the UK, from repairing buildings and improving facilities in deprived areas, to decorating the homes of people living with sickness or disability. For more information, visit www.screwfix.com
To find out more about foundations, visit our charitable trusts and foundations page.