Vista gets people talking at Morningside Arena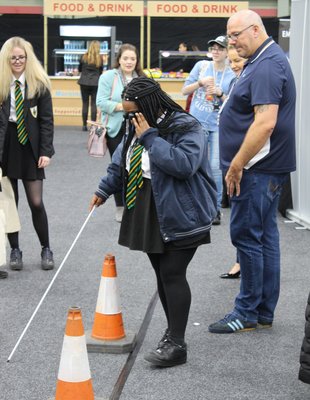 Vista had an eventful day at the Inspired to Care event at Morningside Arena on Tuesday. Armed with SimSpecs, blindfolds, and the VMSS, Vista attended the Career in Care event and spoke to dozens of school and college students about their eye health. 

The Children and Young People's service were at the event, asking students to complete simple tasks blindfolded to experience how sight loss affects day to day life, specifically how hard it making a sandwich can be. Let's just say, there was more butter on the table cloth than the bread.  

The community service team were there getting students to navigate a simple obstacle course using only a cane and wearing glasses that replicated severe glaucoma. The results were mixed, some were able to almost dance through the course whereas others ended up needing to be caught after tripping up over cones. 

Our residential home staff and residents also were there dispelling the myths about working in care and explaining that, although a tough job, it is extremely rewarding. Students and members of the public alike were enthralled by their enthusiasm and enjoyed seeing the range of activities that go on at our homes.

A huge thank you to everyone who spent some time at the event and have inspired the next generation of carers.