Vista honoured with Early Years Award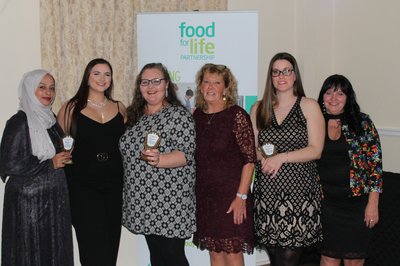 The staff and management at Vistas residential homes have been rewarded for their hard work, taking part in the Food for Life Early Years Award. The award promotes the integration of pre-school and nursery children with elder people, making food together and teaching each other lessons as they do so.
The New Wycliffe Residential had the Bright Bees Nursery visit several times, whether to bring in their toys to share with the residents, join in a group sing-along, or making and playing with playdough together. They even went out into the garden and had a go at tending to the flowers and plants.
Vista staff from the residential homes and members of the board of directors were thrilled and surprised when they won awards at the end of the night. Julie Rudd, manager of the New Wycliffe Residential Home, said 'We just thought the project was lovely and something we really wanted to be a part of. Our residents have loved it and the children seemed to have enjoyed themselves a lot too."
Susan Hoath, CEO of Vista, declared that "it was lovely to spend time with the staff and managers at the homes, and very unexpected to win a trophy at the end of it!"
The Food for Life program is funded by the Lottery Community Fund.