Vista partners with the Stoneygate Eye Hospital for National Eye Health Week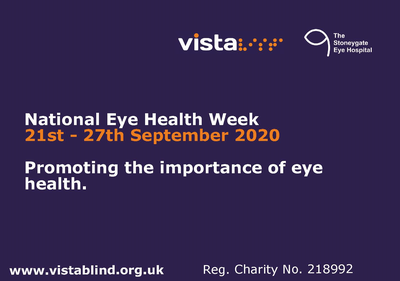 It's National Eye Health Week and we've partnered with the Stoneygate Eye Hospital to bring you talks from their Consultant Ophthalmologists on different eye conditions every day.  
A schedule for the week can be found here.
The new videos will be uploaded to our Just Giving page each day at 10am. 
Should you require additional information on particular eye health conditions, you can find leaflets here:
https://www.vistablind.org.uk/how-we-can-help/looking-after-your-eyes/common-eye-conditions/
https://thestoneygateeyehospital.co.uk/page/eye-conditions.html
In addition, our VMSS team will be going out into the community and screening eyes safely at locations across Leicester, Leicestershire and Rutland.

Sheela Sokani, our Prevention and Inclusion Coordinator at Vista, says: "We want to make sure that people are going for regular eye screenings and remind people who have not been in a while, to get their eyes checked on a regular basis."
Sheela added "We would like to assure everyone that all our staff are trained in infection control measures and we are carrying out the necessary precautions such as social distancing, please please come and get your eyes screened this week".
If you have questions we'll be at different locations throughout the week and you can come and speak to us about any concerns you have around your eyes. If you need help or support, please call us on 0116 249 8839.