Vista's 6th Shop opens in Shepshed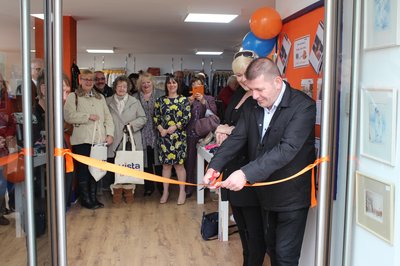 After months of hard work from a team of dedicated staff and volunteers, Vista's newest charity shop has opened in Shepshed. The official opening ceremony took place at 10am, Thursday 6th April.
The ribbon was cut by Emma and Marc Vaughan of MVS, a group who have raised more than three thousand pounds in donations for Vista over the last few years. Members of the public were quick to fill the shop, perusing the aisles and seeing what was on offer, as well as helping themselves to the free doughnuts and Vista tote bags on offer with every purchase.
Kim Loughborough, retail operations manager, said "It's been a lot of very late nights and busy days getting this shop ready, but you can really tell the effort has been put to good use. I want to say thank you to everyone who has supported us with this shop and an even bigger thank you to the customers who turned up today to make the opening an occasion for us."
Vista tote bags are still available, being handed out free to everyone who purchases from the shop but be quick as there are a limited number available.
The Shepshed shop can be found at:
Unit 1
14 Field Street
Shepshed
LE12 9AL