Vista's charity shop windows come to life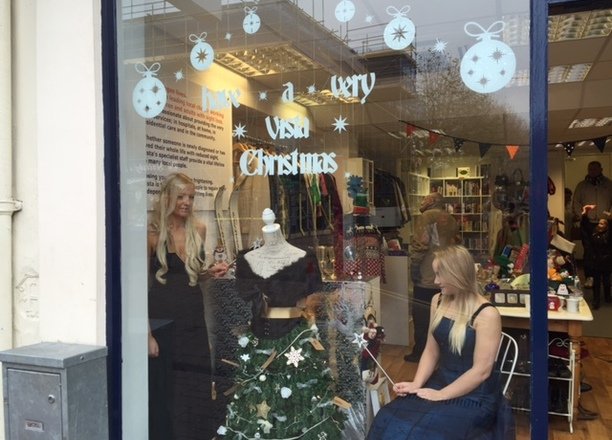 The windows at our charity shop in Loughborough took on a life of their own last Saturday, when we launched our festive stock to the public.
Shop Manager Penny Bailey, along with shop volunteer Katie, added a touch of Christmas sparkle when they became live models for the day, taking residence in the shop windows.
Both were dressed in festive party dresses that are available to buy from the shop, along with a wide range of tops and dresses for the Christmas season and New Year celebrations. A variety of Christmas gifts and decorations are on sale too.
Penny said "We wanted to do something fun to launch our Christmas collection, and also grab shoppers' attention, so bringing the windows to life seemed like a great idea. Our other shop volunteers were also dressed in festive attire and there were clothes, gifts and decorations on offer."
"After being broken into two days after opening in September, we have bounced back thanks to support from local shoppers and residents. Christmas is a significant milestone for us, and we hope to continue on a high in the New Year."
To find out more our shops, visit our charity shops page.