Visually impaired Leicestershire man takes on a firewalk to raise vital funds for local people affected by sight loss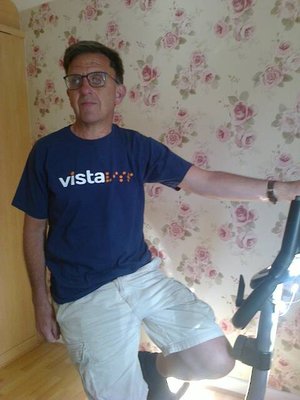 Chris Hammond from Anstey is joining Paralympic champion Libby Clegg for our firewalk on Saturday 28th May at Loughborough University, Shirley Pearce Place.
Vista has supported Chris for the past few years through the charity's rehabilitation services after being registered as severely sight impaired. 
Chris said:
"We're so fortunate to have such a proactive a local charity who have a huge impact on the local sight loss community. Their services are life changing, giving me the skill set to have an independent and fulfilling life."
Libby Clegg, Community Fundraiser said:
"I'm delighted to have Chris join us for the firewalk and would love you to come along and join in too - whether it's solo, with friends, colleagues or family members, everyone over the age of 18 is welcome. The pandemic has really hit our fundraising and local support is vital to the charity in helping us to deliver our sight loss services." 
If you think you can handle the heat, please sign up today by visiting https://vistaleicester.wufoo.com/forms/vistas-firewalk-registration-form/
We have limited spaces available so be quick! 

Lead by the experts at UK Firewalk, this is a great chance to conquer the coals and raise money to help support local people affected by sight loss.