We're calling on local thrill seekers to take part in our firewalk challenge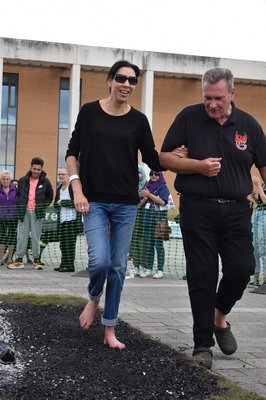 Please note this event has been postponed. We are sorry for any inconvenience this may have caused. We will update our website as soon as we have a new date and location for the event.
Are you, your family and friends brave enough to conquer the coals for Vista? On Friday 22nd September, our firewalk returns! It will be at Highcross, St Peter's Square, 8 Bath House Lane, Leicester LE1 4SA from 4:30 pm.
The event will be hosted by UK Firewalk one of the UK 's leading firewalking companies. The walkers will be trained by Scott Bell (Twice Guinness World Record holder for the greatest distance walked on fire) and then walk across hot coals with a temperature over 1000 degrees Fahrenheit to raise funds for Vista.
Libby Clegg, Community Fundraiser at Vista said:
"This is your chance to take on an exciting challenge – conquering the coals – and help those affected by sight loss in Leicester, Leicestershire, and Rutland. Everyone over the age of eighteen is welcome!
Libby added: "With your help, we can continue to provide life-changing services and vital support for people with sight loss."
Do something extraordinary and sign up to Vista's firewalk today at www.vistablind.org.uk/firewalk2023. There are limited places available so make sure you're quick to secure your place! If you have any questions, please get in touch with our fundraising team on 0116 249 8801 or at fundraising@vistablind.org.uk.