Chris - Digital Dynamos case study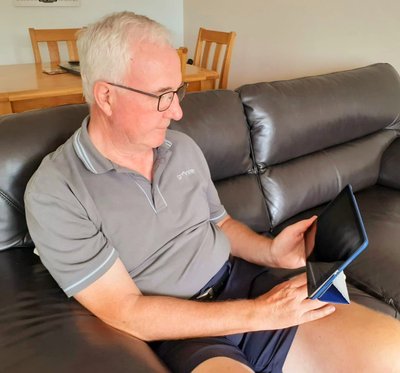 Chris began volunteering at Vista when he retired. He has joined a cohort of volunteers supporting people affected by sight loss with digital technology, troubleshooting and assistance, through our Digital Dynamos project.
Vista's Digital Buddies spend their time visiting the people we support to help with all things technical, from programming large print television remotes to setting up virtual assistants, such as Alexa or Google.
Chris shares with us "I'm not an expert on digital technology by any means but I did pick up some knowledge in my working life."
Technology is constantly evolving. We are lucky at Vista to have passionate volunteers, like Chris, who are familiar with gadgets and gizmos old and new, and enjoy learning so they can best help others. 
Volunteers are supported in their efforts by our recently promoted Project Co-ordinator Cal, who joined the project in 2022.
When asked about his experience as a Vista volunteer so far, Chris said "People are always pleased to see me and are grateful for the help provided. Volunteering for Vista is both flexible and satisfying. I'm glad I joined."
For more information on what the Digital Dynamos project can provide, visit www.vistablind.org.uk/DigitalDynamos
For more information about this service, or to register your interest in becoming a Digital Buddy, please contact digitalbuddy@vistablind.org.uk or on 0116 249 8840.