Chris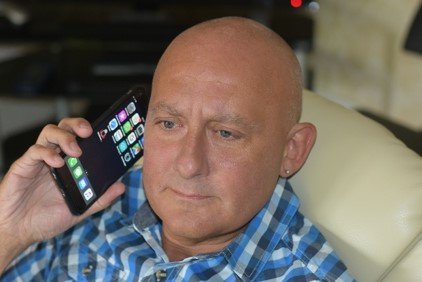 In 2017, Chris was a busy sales executive when he noticed issues with his vision. As it got worse he visited his optician and then a doctor and was subsequently diagnosed with Lebers hereditary optic neuropathy.
The condition mainly affects central vision, needed for detailed tasks such as reading, driving, and recognizing faces. Vision loss results from the death of cells in the optic and although central vision gradually improves in a small percentage of cases, most of the time the vision loss is profound and permanent.
His sight loss had a devastating effect on his life. He lost his job and livelihood and became anxious about the future; isolated and lacking confidence.
After finding it difficult to access any assistance, he reached out to Vista and was put in touch with our new Digital Buddy Project. Following an assessment, Vista found that Chris needed assistance to use his iPhone and he was assigned Digital Buddy Volunteer Brian, who helped to guide him.
Brian, who also has a form of sight loss, visited Chris's home and within a short time has given Chris the ability to use his phone's accessibility features with confidence, letting him stay in contact with his family and friends.
"I had heard of people with sight loss using the iPhone," Chris said, "but until I met Brian I didn't realise how easy it would be. Brian is a fantastic guy!" During their chats, Chris discovered that Brian is a skilled amateur photographer, and this rekindled Chris' passion for photography.
Chris is at a stage where his confidence has grown to a point that he's applied to become a Vista volunteer, wanting to help others with sight loss who have become isolated and lost their confidence.
Technology can make a significant impact in reducing the effects of slight loss. If you need advice, assistance and support in choosing and using technology, get in touch with Vista Digital Buddy Project on 0116 249 8840 or digitalbuddies@vistablind.org.uk.