Imelda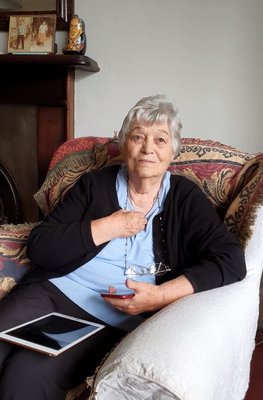 We spoke with Imelda, who is being supported by Vista's Digital Vision Service, led by Ian Watts. Their aim is to support people with sight loss and teach them how to use the accessible technology in order to reduce isolation and increase independence.
"It's a shock to know that your eyesight is deteriorating and is going to deteriorate even more, and I'm not even sure I've come to terms with it.  What I did think when I was diagnosed with macular degeneration was that I would have to find ways to deal with it, this is the most difficult thing I've had to face.
"I've had an enormous amount of help from Vista. I've got a buddy, sharon, who is a big help and support. What I've done is get a new iPad and phone and I've had training from Ian watts to help me to use voice applications – an absolutely eye opener.
"I've learnt how to access book from the library. Both large print books and audio books. Reading is an enormous part of my life since I was a small child, I'm part of a book group and a writer's group, and the thought of not being able to read was a real setback for me. But I can read, large print books on the iPad and the C, but also audiobooks. It isn't the same, but it's a pretty good substitute, it really is.
"The Uber taxi I love, because it gives me some freedom. I've one or two setbacks, of course, I nearly ordered 7 taxis in 10 minutes but was able to rectify that myself. But it's so easy now and I can do it very, very quickly.
"The thing that really helped me was to create a WhatsApp group in this road. I did it because I had an elderly neighbour I looked after, but she couldn't always let people know when she needed help. and realised that could be me soon, I won't be able to see. So, with the help of a neighbour and Vista I set up a group for the group, with a dozen or so people on this road. It's for if I'm ill or need help, fallen down, or need prescriptions collecting, but it's also for the other people who can let us know if they're going on holiday, or have surplus runner beans, we can all help each other.
"You have to look for networks, and I think for me Vista is one of those networks. It's like a comfort blanket but a very practical comfort blanket.
"I'm not that good at the technology, I'm 80 so just escaped learning in my job, but I've had to learn internet banking, ordering groceries, keeping in touch with family in America, and I've had to learn that again knowing that I will have very little vision.
"The voice stuff is odd, sort of seems unnatural. The keyboard and typewriter seems natural, which seems silly doesn't it, but telling the computer what to do I had difficulty with it but I have learned how to do it and will learn a lot more with Ian and Vista, because I want to be able to do these things before I have to  do them.
"That's what Vista has done for me."