Liam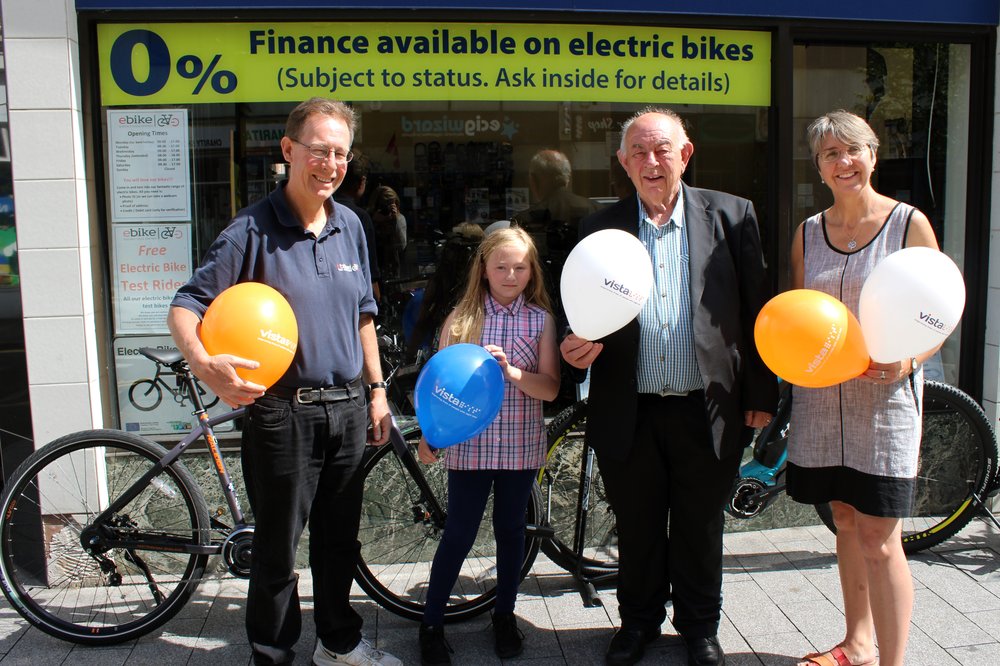 Liam Dunphy, owner of Ebikes Electric Cycle Centres on Granby Street in Leicester, has launched a partnership with us in order to raise funds for local people with sight loss.
Ebikes, also known as electric bikes, are simply bicycles with a battery and motor; boosting your speed to a maximum of 15mph. Costing only 1p per 3 miles to run, ebikes are considerably cheaper than driving or public transport.
Liam's family history with the charity goes back nearly twenty years, when his mother was appointed as Deputy Director of Vista's residential homes.
Henry Dunphy, Liam's father, said "She was heavily involved in running Kathleen Rutland and New Wycliffe homes, and was also a fundamental part of starting Vista's residential homes for adults with sight loss and learning disabilities."
He added "In 1993, I became the Lord Mayor of Leicester and chose Vista as our Charity of the Year, raising over £140,000 towards Simmins Crescent home in Eyres Monsell."
"Seeing for myself the vital support provided to the residents also encouraged me to get involved in all sorts of community fundraising events."
Liam decided to follow the family tradition and support Vista when he realised how electric bikes could help people with sight loss.
He said "If you have a visual impairment, you may be told that you can't drive anymore, which can be isolating. However, an ebike is legally the same as a bicycle – there's no need for a licence, plus you don't have to pay for insurance, tax or MOT."
"This is fantastic for people who don't have good enough sight for driving, but still want to get out and about, which can be really beneficial physically and mentally. With the deals on offer for Vista, I hope to raise funds to help the charity continue their vital work."
Exclusive deals include a free 20 minute ebike trial, £20 day rental, £20 group bike ride on the last Sunday of each month (ebike provided), with all proceeds going to Vista. To take up the offer, simply mention Vista when calling the shop on 0116 254 0888, or popping in at 102 Granby Street, Leicester. 
For more details about ebikes, including how to book and collect, please visit the ebike centres webpage.
If your business would like to get involved with Vista, visit our corporate partnerships page.