Santander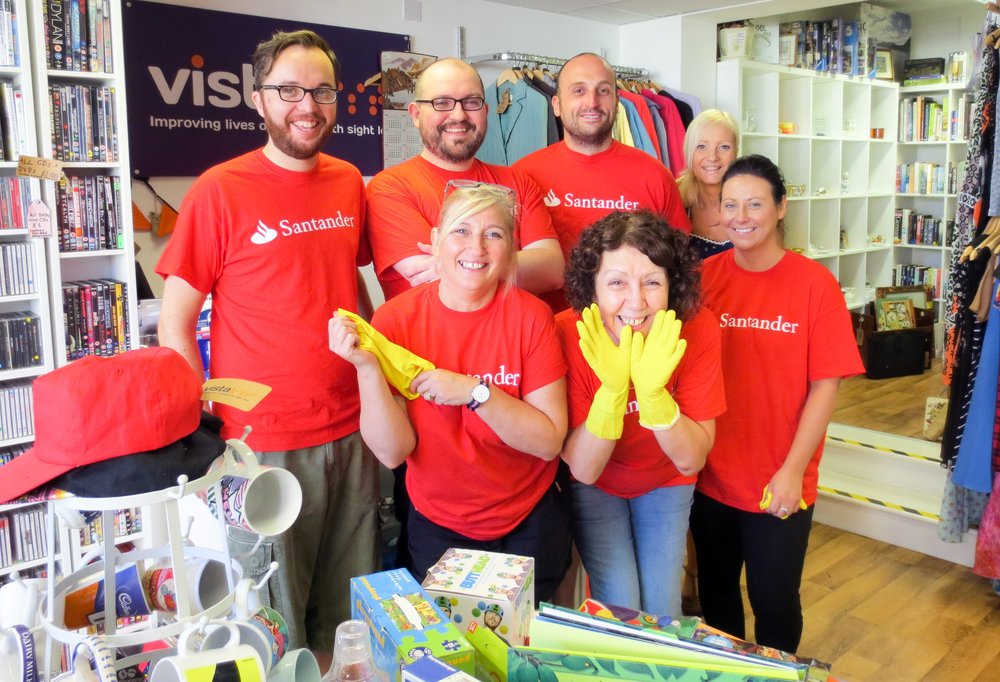 Santander work in partnership with Vista, providing vital support by volunteering and fundraising. The bank employees, based at the Carlton Park offices in Narborough, have helped us to improve the lives of people with sight loss.
One of Santander's goals is to help others by making a difference in the local community. In July, a small team of employees visited our charity shop in Loughborough to help out with organising stock, such as clothing, books and bric-a-brac. Their enthusiasm and hard work resulted in a successful day, with plenty of stock ready to raise funds on the shop floor.
Martyn Pearson, who organised the Santander Discovery Day, said "Vista's support is personal to me, as I have a friend who is visually impaired, and the team agreed that we would be supporting a worthy cause."
"Over lunch we had the opportunity to chat with Louise, Vista's Community and Corporate Fundraiser, who told us more about the charity's work and the people they support. It was incredible to hear how simple steps can be taken to vastly reduce the chance of sight loss at any point in our life."
"On behalf of Santander, we would like to thank Vista for their hospitality. We left a stronger, closer team and felt proud of the contribution we were able to make."
Groups of employees also took part in a 'Vista box-collecting away day' last summer and in April this year, bringing in almost £9,000 in total. Several teams navigated their way through Leicestershire streets and villages to help us collect money generously donated by the public.
Sonia Norman, who organised the days, said "We've volunteered to do this task two years in a row as it's a great experience - it made a real difference to be able to get out of the office and help Vista. I have now volunteered to be a box collector in my local area, and I am already searching for new locations!"
"We're proud to have such a tangible result at the end, knowing that the money will go towards supporting children and adults with sight loss in Leicester, Leicestershire and Rutland."
If your business would like to get involved with Vista, please visit our corporate partnerships page.