World Glaucoma Week - Sharon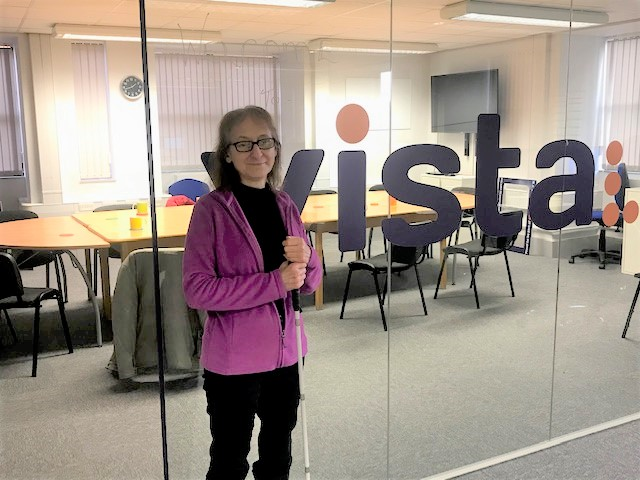 Sharon was originally involved with Vista when she was a child and her eyesight started to deteriorate. At the age of 13 years old Sharon was diagnosed with glaucoma, which she developed as a result of a condition called juvenile rheumatoid arthritis, which she had when she was younger.
Sharon got back in touch 12 years ago when she was diagnosed with glaucoma and made redundant from her role as an IT help desk worker.   
Living with glaucoma Sharon felt quite isolated and became involved with one of our groups, meeting new people and getting out and about, later becoming involved with Vista's forum which is a user led group, for people in the local area with a visual impairment. It meets quarterly with the Chief Executive and representatives of Vista.
As her sight worsened, she received rehab support for cane training.
Sharon said; "being in touch with Vista has enabled me to broaden my horizons, meet new people and I've made some great new friends who I meet up with regularly."
She added; "I also volunteer as a digital buddy with Ian Watts who looks after the service and I can now help other people, I never thought years ago when my eyesight became gradually poor that I would be this independent.
Being a part of Vista has given me opportunities I wouldn't have experienced otherwise, and my glaucoma hasn't restricted me in the way I thought it would."