LCFC fan conquers #WalkToWembley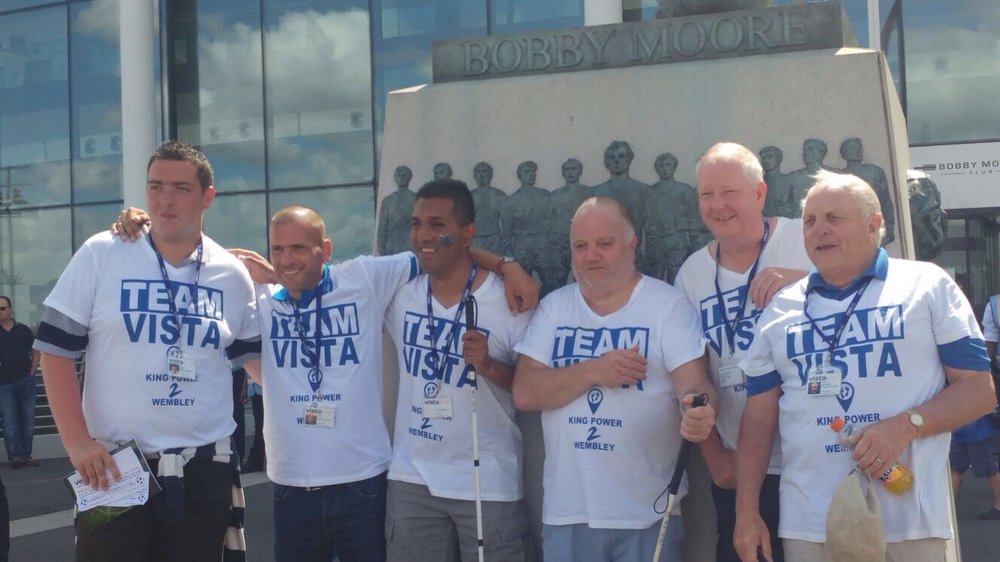 Born and bred Leicester City supporter Martyn Richardson has conquered the challenge of walking 100 miles from King Power Stadium to Wembley Stadium, in order to raise vital funds for Vista.
The former pub landlord has a rare eye condition called Leber's disease, which has had a severe effect on his vision. Martyn first became aware of it in March last year, and by July had registered with Vista. He has been a Foxes fan for all of his life, and despite losing his vision, Martyn still goes to games to soak up the atmosphere.
He said "Vista have been so supportive, the rehabilitation team have visited me at home, I've been taught how to use a cane, and they have introduced me to lots of gadgets to make my life a bit easier. I really wanted to do something to say thanks, and this challenge gave me the opportunity to tie it in with my love for LCFC."
Martyn, with his team of friends and family, set off from King Power Stadium on Monday 1 August, arriving at Wembley six days later in time for the FA Community Shield sponsored by McDonalds (Charity Cup).
He said "By the time we reached the Statue of Bobby Moore we had blisters on our blisters, but we felt so happy and relieved. It has been a real challenge, however everyone has been so kind – encouragement from passers-by, free accommodation and breakfasts, and of course vital donations for Vista."
"Walking to Wembley was a life-changing experience, and it's an achievement that will stay with us for the rest of our lives."
Louise Hall, Community and Corporate Fundraiser, said "Martyn's team have been fantastic – we are very grateful to them, and to all the individuals and companies that have supported this ambitious challenge."
Martyn is nearing his goal of raising £5,000 - to donate, please visit Martyn's JustGiving page – www.justgiving.com/fundraising/Martyn-Richardson or you can text MRWW48 £10  (or the amount you wish) to 70070 from your mobile phone.
For more information about Martyn's challenge, please read #WalkToWembley: daily updates, written by his Befriender Pardy.
If you feel inspired to help raise vital funds for us, visit our do your own fundraising page.