#WalkToWembley: daily updates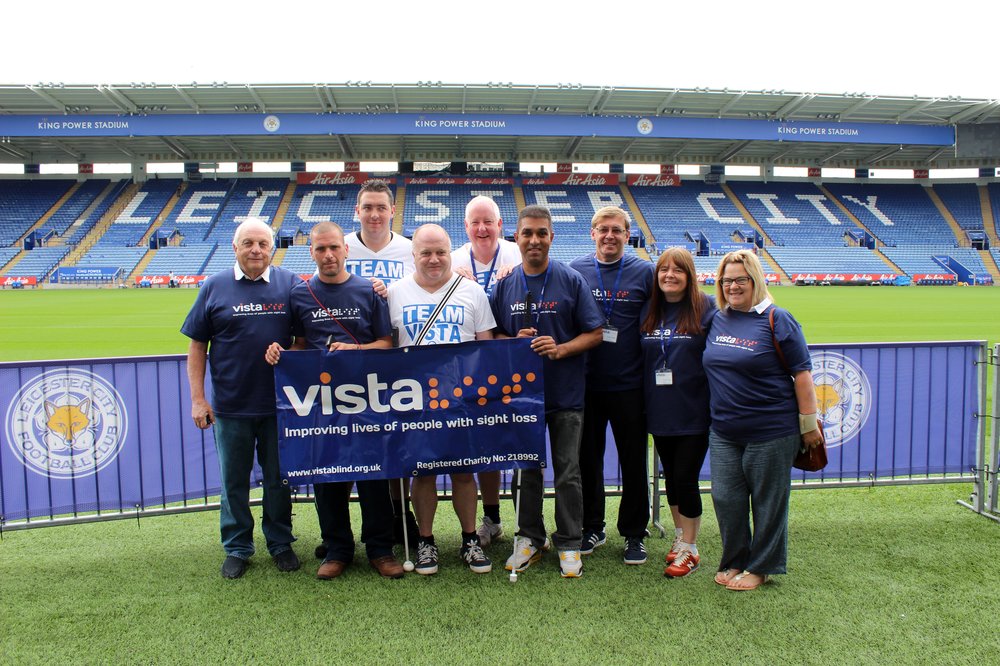 London to Leicester (cheating, by train).
A full breakfast awaits as we reminisce on yesterday. We bid farewell to Keith - his constant smile and laughter has motivated us all week. With no more support vehicle, we set off towards Edgware tube station. Amazingly, my blisters have gone and I can't get enough of walking. Appropriately, we alight at Leicester Square and do a walking tour of the sights, including Covent Garden, Trafalgar Square, Buckingham Palace and Mayfair plus a few celebratory drinks! So proud of my Befriendee Martyn's achievement. I'm equally proud of Nigel, Adam and Ben. We've stuck together through thick and thin, had laughs and jokes along the way, and we've bonded amazingly well. They've always looked out for me, especially in the dark when I can't see. For them to take over a week off work is real commitment. It's been a real team effort and made lifelong friends in the process!  Finally board the train to Leicester with an entire carriage to ourselves - feels surreal to arrive home an hour later, where our mammoth trek began.
Edgware to Wembley Stadium
We're so glad to be reunited with organiser Helen and her family - seeing them at Market Harborough feels like a distant memory. Really chuffed a VI friend from London, Dipti and hubby Kris also joined Team Vista. A big contingent of us set off in our Team Vista tshirts on a beautiful sunny day, and I promised I wouldn't sing just yet!  
Got a glimpse of the Wembley arch, not far to go. We reached the Leicester City Fanzone at the Torch - what a terrific, unforgettable and emotional experience. Shaking hands with many of them, thanking us and donating generously to our cause. The chanting really got us in the party mood as we continued along Wembley Way. The beautiful stadium in all its glory ahead of us now. Even Man Utd fans applauding us!

My cane has been through an ordeal, but we're almost there - can see the finishing line now, the Sir Bobby statue!  Final few yards and we're interviewed live at Wembley, and put on the big screen inside the stadium. We feel so emotional, relieved and proud of what we've collectively achieved - two registered blind friends completing a gruelling 100-mile walk through tough terrain to Wembley on this historic day!  It was amazing seeing fans from competing sides congratulating us on our achievement, and there's a great atmosphere inside the stadium. 
Our heroes played well and the equaliser was enthralling, but despite the result not going our way, our supporters were still upbeat, the spirit of the game is captivating. We still had celebrating to do with a meal at Flavours, where the staff kindly opened their kitchen just for us! Despite the result, an amazing day I'll cherish and never forget.
Missed the Olympics Opening Ceremony at midnight, as I was too preoccupied contemplating our own upcoming Closing Ceremony! Keith dropped us off where we finished yesterday, at St Albans City train station. His non-stop jokes have entertained us all week, what a guy! Met up with a friend of Martyn's, Gus, who got the train down from Leicester to join us on today's leg. Gus and Keith's partner Chris joined us as we set off through leafy St Albans on a scorching hot day. 

Like Adam, I can't even feel my blisters anymore, although the hardest part is to start walking again after pausing. It felt surreal hitting urban London again, over the past several days I've grown accustomed to walking through the countryside. Final few miles now, and I'm so proud of Nigel, Adam amd Ben, who've looked after me so well and I've not banged into anything with my cane. Small things such as telling me where the kerb stops makes a big difference, they've been awesome!  Finally reach Team Vista's base camp at Premier Inn Edgware late afternoon - thrilled to get here in one piece and meet Martyn's family and friends Lisa, Steve, Andy and Gus's brother.  Now a team of semi pro-athletes, Happy Hour in the bar was celebrated by us all, followed by a curry. So excited about reaching the finish line tomorrow!
Newport Pagnell to Dunstable
Following our breakfast in leafy surroundings, we started walking through quintessentially English villages such as North Crawley, past Cranfield University and Woburn Sands. Some roads were treacherous to walk across, but Ben and 'Sat-Nav Adam' did a terrific job navigating us safely. Nigel persevered despite tissue damage in his foot - what a guy.
Scary rain clouds loomed on the horizon but my karaoke singing kept them away. With the upcoming Olympics inspiring us, we covered 3.4 miles in the final hour arriving at 6pm. Total number of steps: 39,885. We have a growing collection of blisters but we're resilient, bring on St Albans!
Day 3: Northampton to Newport Pagnell
We started walking at 9am, and were kindly given lots of donations by passers-by who saw our fundraising shirts. An eventful walk to Newport Pagnell, where we finally reached Grade 1 Listed Chicheley Hall in the afternoon (every room is named after a famous scientist - nice!) Amongst us, our feet ache and there are blisters galore but we're determined to continue!
Day 2: Market Harborough to Northampton
A huge thanks to the Angel Hotel in Market Harborough for supporting us, we can't thank the staff enough for a wonderful stay.
After a hearty breakfast with a VIP friend, Vanessa, we set off for the Brampton Valley Way, which forms the closed Market Harborough to Northampton rail line. The Brampton Valley Way will forever be embedded in our minds and soul - several hours spent walking along the 14 mile track, including two 450-metre pitch black tunnels! We were spurred on by rain, a lack of people to speak to and a sign left earlier along the way by Martyn's pal Birchy which read "Foxes never quit, keep it going boys #LTID".  
Finally reached Northampton after eternity. Thanks to Adam's quick thinking, we cut through a football field to finally reach our hotel. Another day dusted! 
Day 1: Leicester to Market Harborough
Awoke feeling excited and a little scared of uncharted territory ahead. I've challenged myself several times in my recent Tall Ships Atlantic odyssey, so I'm raring to go!
Since my vision worsened a few years ago, Vista have provided me with rehab training, advice, support plus the opportunity to meet other VIPs, which has really benefited me. I'm keen to convey my thanks to the largest local sight loss charity in the country by embarking on this challenging trek.
En-route to King Power Stadium, I was reassured to hear that BBC Radio Leicester were doing a live broadcast at the beginning of our trek. Arriving at the stadium where history was made last season, at 8:15am to find Team Vista waiting on a beautiful summer day. Fans already queuing for general release of tickets for the first home game against Arsenal. The broadcast went amazingly well, and it was terrific seeing all the fans cheering us on and donating generously towards Vista.


The members of Team Vista #WalkToWembley:
Martyn has been so inspirational the past few weeks, encouraging so many local businesses to donate for his fundraising party last month. I'm gutted I missed it due to sailing, but the party raised almost £1000!
Nigel has been instrumental in using his professional expertise to map out a well-defined route to Wembley, and advising authorities along the way plus risk-assessments.

Helen has been pivotal in managing the walk, and her incredible fundraising efforts inspired me to succeed.
Keith and Chris, Martyn's parents who will be driving the support vehicle to accompany us.
Chhaya Patel, a visually impaired friend who has always been there when I've organised various trips and holidays for VIPs. It's fantastic having her support us.
Louise, Vista's Community and Corporate Fundraiser, is an amazing employee who's worked so hard in facilitating with the logistics of the journey. And of course Sue, Vista's Befriending Assistant who introduced me to Martyn a few months ago.


At 9am, we went through the tunnel onto the pitch which the club opened up for us to start our trek. Got a few great pictures and everyone is in an upbeat mood.
We set off shortly after 9:30am - a smooth stroll through Clarendon Park towards Oadby, with my fundraising bucket in hand encouraging passers-by to donate (regrettably I didn't sing Lionel to them). Reached Asda in Oadby for a short break. Shoppers came up to us congratulating us on our earlier interview and wishing us luck.
We proceeded to Oadby town centre for lunch, and I was amazed by how generous passers-by were, and how many people's friends or family with sight loss had benefited from Vista's services. This really motivated me enormously, knowing that every penny raised will help VIPs like myself lead better lives.
My Dad came to provide supplies of food and drink, and we continued on. Chhaya left to meet us at Market Harborough with a fundraising bucket, I am so proud of her coming all this way with us. Left Leicester and a pleasant walk towards the next village, Great Glen, where we had a refreshment break and met with another inspirational VIP friend, Ruth, who cheered us on with her warm enthusiasm.
The final leg to Market Harborough, expected to take 2 hours at around 6 miles, was treacherous. Martyn began to get a little cramp in his legs, but his steadfast determination to continue was awesome to see. A large truck slowed oncoming traffic, allowing some vehicles to donate! Chris joined us further down and Team Vista arrived in Market Harborough in high spirits but frankly exhausted at 6:30pm. 
The Angel hotel in Market Harborough very generously offered complimentary rooms overnight, and what an amazing evening we had reminiscing on Day 1. Louise joined us and was so glad to hear that we now have tickets for the big game at Wembley on Sunday, an end goal to look forward to!