Vista launches Innovative New Eye Screening App in National Eye Health Week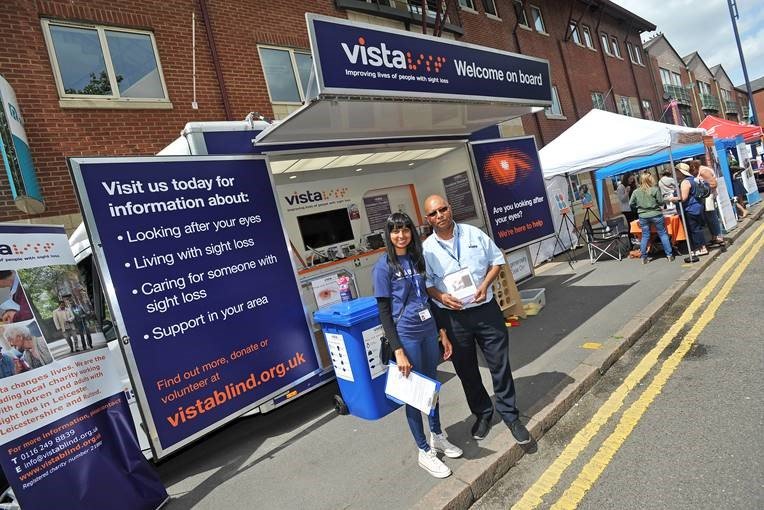 In National Eye Health Week, we want people to know how important it is to look after their eyes and have them checked regularly. Vista is launching a new specially designed app which will be enable us to quickly check the sight of children and adults in the future, in local communities via our Mobile Support Service and in local primary schools.
We will be at Leicester's Humberstone Gate West from 10am – 3pm Monday 18th to Friday 22nd September and we are encouraging people of all ages to visit their mobile unit to learn about eye health and most importantly have their eyes screened.
Over 50% of sight loss is due to treatable or preventable causes. A sight test is not just about checking your vision, they are also vital checks for various health conditions. If a problem is spotted early, conditions can be treated successfully to avoid potential sight loss. Whilst not a substitute for a full eye test, the innovative eye screening app takes users through a series of simple exercises to see if there may be an issue with a person's sight.
Paul Bott, Chief Executive at Vista said "Vision really matters, one of our aims is to promote preventable sight loss and during this week we want to reach as many people as we can. We're also very excited about the launch of our eye screening app during this week so come along to our mobile support service and have a chat with us or one of the opticians from Specsavers."
You can contact a local optician for a sight test, which will be conducted by a qualified optometrist or an ophthalmic medical practitioner. Sight tests are free of charge for children under the age of 16, over 60s, people registered with sight loss, diagnosed with diabetes or glaucoma, and those in receipt of certain benefits.
For more information about Vista, please visit www.vistablind.org.uk
For more information about National Eye Health week www.visionmatters.org.uk