Vista runners conquer the Vitality Big Half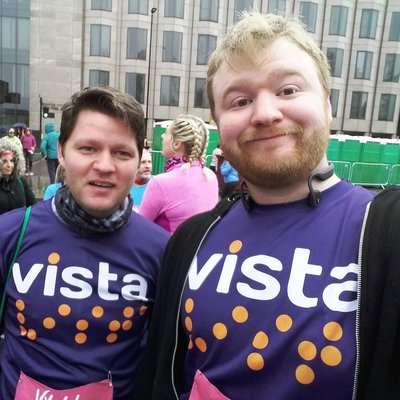 ON Sunday the 10th of March, two runners completed the Vitality Big Half Marathon in London, raising money and awareness for Vista. 
Marketing and Communications Assistant Adam and volunteer Constantin ran the 13.1 miles route that snaked through central London, from the Tower of London, through Canary Wharf, back round to Greenwich. They fought against 60mph winds and rain showers, crossing the famous Tower Bridge. Despite the weather and the pain, they both completed the race well under the time targets.
Michelle Thompson, Vista Community and Corporate Fundraiser, said "We are very proud of the boys' performance. They've both been working really hard in training despite some serious setbacks, and we're all really impressed by their efforts. The question now is whether they'll want to join us for the Leicester Marathon..."
If you want to support Vista by doing something amazing, you can look at our Fundraising events page here or by contacting Michelle at Michelle.thompson@vistablind.org.uk