Local runners conquer Leicester Marathon on behalf of Vista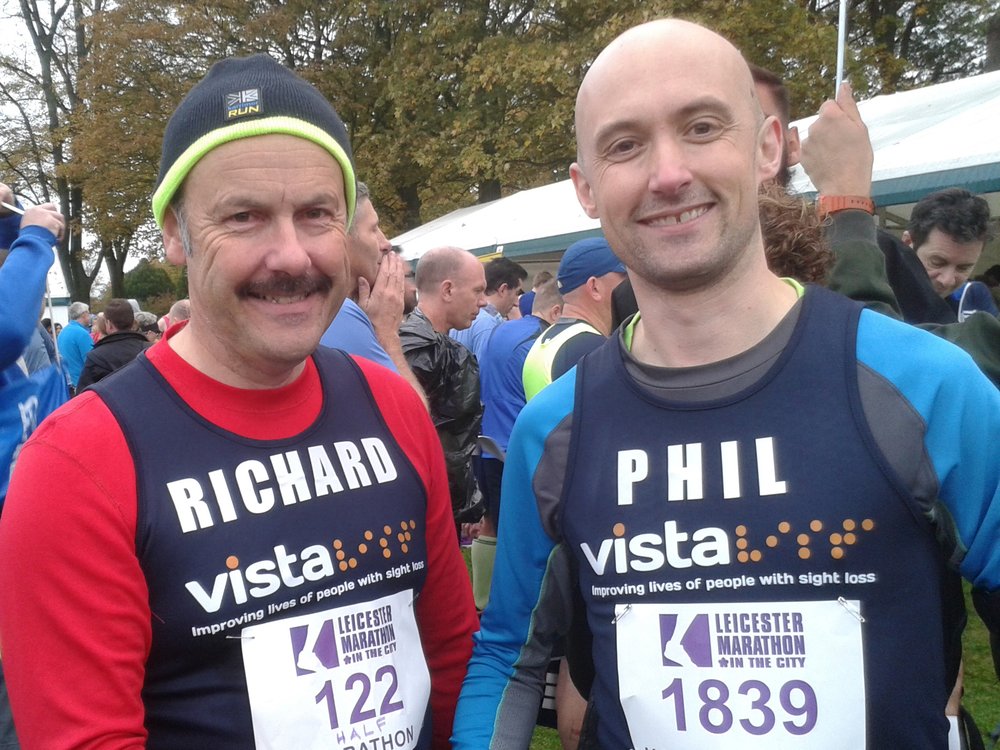 Two local men have completed the Leicester Half Marathon in aid of Vista.
On Sunday 23 October, keen runners Richard Angrave and Phil Challoner conquered over 13 miles in order to raise funds to support children and adults with sight loss across Leicester, Leicestershire and Rutland.
Richard, who has already raised £1,000 for Vista through quiz sales and hosting a quiz evening, has previously taken part in marathons in Nottingham, London and Edinburgh. He decided to fundraise in memory of his father, Bill.
He said "Vista provided support for my father who was registered blind for the last two years of his life. The charity helped him to maintain his independence."
"Fundraising for Vista has been going really well, and I chose to run the Half Marathon for a local organisation that made a real difference to my father and his wife."
Phil, an experienced runner, said "Vista is a charity close to my heart. My grandmother had Macular Degeneration and lived in Kathleen Rutland Home, where she was so well looked after. The staff were wonderful and provided excellent care."
"I'm pleased to have completed the race within two hours - I hadn't ran a Half Marathon before!"
"I am delighted to have already raised £600. I would love to hit the £1000 target, the support will make such a difference."
Kate Naish, Director of Income Generation at Vista, said "We're so pleased that Richard and Phil ran the Leicester Half Marathon on behalf of our charity. We rely on the community to raise funds so we can continue our vital work, so we are very grateful for their support."
If our runners have inspired you to fundraise for us, please visit our fundraising page.
To sponsor Richard and Phil, please visit their JustGiving Pages at www.justgiving.com/fundraising/BillAngrave and www.justgiving.com/fundraising/Phil-Challoner1