Work Live Leicestershire (WiLL)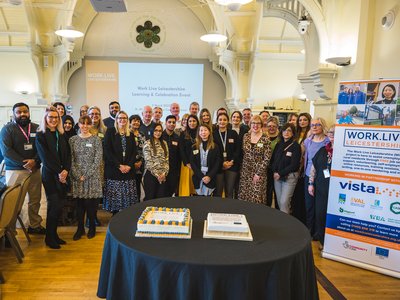 The Work Live Leicestershire (WiLL) project has now ended - with signposting towards other support services that are available in Leicestershire. 
Vista, the leading sight loss charity in Leicester, Leicestershire and Rutland, hosted and managed the WiLL project, who focussed on rural communities within the county of Leicestershire. 
The National Lottery Community Fund and European Social Fund made the project possible, from its 2019 inception to the end of service delivery, which came at the end of March 2023. 
Over that time-frame, the programme has delivered employment support to over 1,000 people, living in rural communities, and surpassed all delivery targets. 
Now the WiLL project have put together a 'Goodbye and Good Luck' guide, which is endorsed by the keyworkers, partners and supporters that made the initiative such a success. 
See below to download digital versions of the guides, which cover Oadby, Wigston, Market Harborough, Lutterworth, Loughborough, Melton Mowbray, Coalville and Hinckley. 
Whether it's local jobs, apprenticeships, volunteering, careers advice, training, education, functional skills, crisis support or wellbeing activities that you are after, it's all here!
The WiLL project's final evaluation
The WiLL project has undergone a final evaluation, which was compiled and completed by Krista Blair (KMB Consulting) and Dr Jennie Jordan (Jennie Jordan Associates).  
They have conducted a review and established evidence of wider priorities and benefits, locally, which has led to two reports being produced. 
These reports have identified ongoing community needs relating to employment, training and wellbeing, with recommendations of best practice.
As such, a Good Practice Guide is aimed at funding, commissioning and service providers, that defines how the WiLL project's model can be emulated, with a partnership-based approach. 
The Needs and Solutions report sets out findings of ontinuing challenges facing local communities, while sharing the learning from the WiLL project's outcomes and experience. 
Both reports are now available and can be accessed, in full, by clicking on the download links below. They are also to be delivered to local authorities.