Give the gift of confidence this Christmas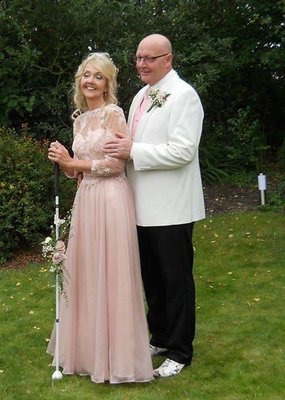 We've just launched our Christmas appeal and we'd like to tell you about Alison who at 52 years old, had a stroke and lost her sight. 

Take a few minutes to read Alison's story below and find out how you can show your support for people with sight loss this Christmas. 
Alison's story in her words:
As a person living with sight loss, I wanted to ask you to support Vista and explain why it is more important than ever right now.  

In 2016 I suddenly lost my sight. Imagine for a moment how that feels. The hospitals have no more available treatment to give you. Where do you go next?  
I had enjoyed a career as a matron in the NHS and was working as an inspector in residential care when at 52 I suffered a stroke; I lost my sight and was registered blind. I felt isolated and scared about what the future may hold. 
Vista got in touch and offered me their support. It was tough but I had to learn to use a long cane which helps me to navigate and avoid obstacles. Gradually, I progressed becoming independent again. I was catching the bus to Leicester city and shopping.  I was starting to feel back to my old self, and it felt great.
Then at the start of 2020 Covid hit. I became very anxious about going outside, worried I would bump into people and feared I could not adhere to social distancing restrictions. I was starting to lose my confidence. A member of Vista's Rehabilitation team spent time listening to my concerns, supported me to regain my confidence, teaching me how I could cope with the pressures and restrictions that living in Leicester under lockdown have entailed. Their help has made me feel that I can live normally as before – as much as any of us can in the challenging situation we currently face. 
When I lost my sight, I felt that my world had become very small.  With the ongoing help and support that Vista have given me my world has become a much larger and brighter place. My anxiety and isolation have reduced, I have gained the confidence to live my life again. I really don't know where I would be without Vista. 
This Christmas I would like to ask you to support Vista so they can continue to support people like me. In Leicester, Leicestershire, and Rutland there are over 12,000 people living with sight loss, who face the challenges I face every day. Covid 19 has meant Vista's fundraised income has fallen dramatically but people like me need their support more than ever.
Together we can continue to support local people with sight loss like Alison. Your donation will go towards continuing Vista's invaluable work. You can donate at https://justgiving.com/campaign/Vista-Christmas-appeal-2020, or call us on 0116 249 8801.
You can also listen to the audio format at https://www.vistablind.org.uk/how-we-can-help/managing-sight-loss/talking-newspapers/