Mobile Support Service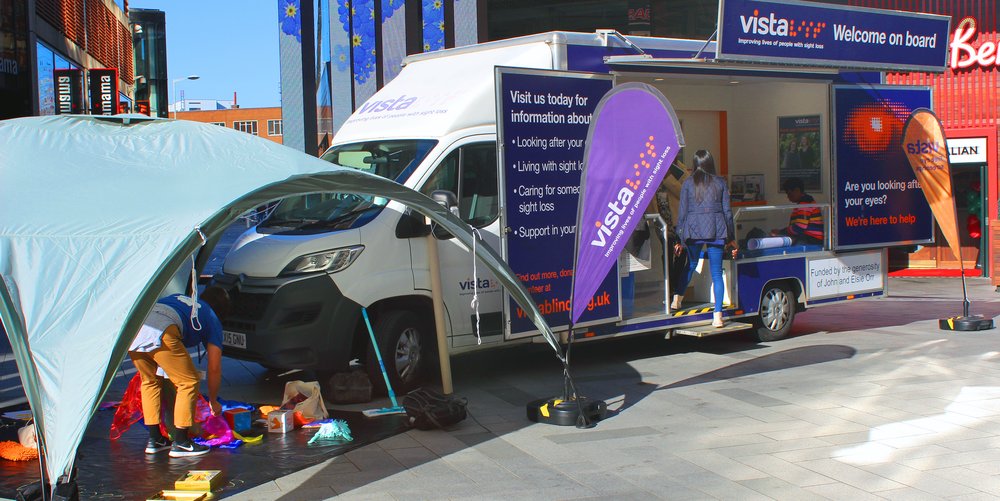 Our mobile support service is back out in the community again in line with the latest government guidelines.

Vista's mobile support service is touring Leicestershire and Rutland, providing information, support and advice about eye health and assistive technology.
1.8 million people are living with significant sight loss in the UK, and evidence suggests that over 50 percent of sight loss is due to preventable or treatable causes. People with sight loss can often feel isolated when they do not have easy access to information and technologies that could improve their everyday lives. We believe that advice and support should be available in even the most rural communities, so we've taken our services on the road.

Our specially designed vehicle features a welcome area, leaflet display and seating area for individual consultation and support. Our friendly staff are offering free advice about reducing the risk of sight loss, as well as the support and services available through Vista. The team are also on hand to demonstrate equipment and technologies designed for people with sight loss.
Venues, dates/times may need to change so please telephone us on 0116 249 8839 before you travel if you are making a special journey. 

Get involved
We have plenty of opportunities for volunteering with the team on board in your local area. Visit our volunteering vacancies page for full role descriptions and an application form.
Find out more
For more information, please contact us on 0116 249 8839 or email
info@vistablind.org.uk
. In the case of bad weather or an emergency cancellation, please check the website or get in touch with us before your visit. 
Find out more
For more information, please contact one of our team below.